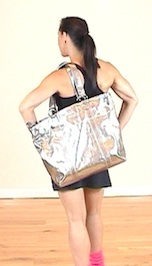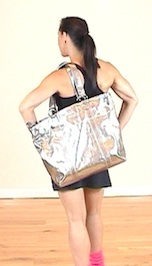 I am always looking for the perfect bag.
I have a whole wardrobe full of high street bags, sports bags, designer bags, hand bags, clutch bags, day bags, you name it I have it. And I am constantly looking for a cool, structured bag for work – something that would hold my laptop, charger, wallet, mobile phones, notepads,  Kindle, camera, Flip cam, CD's, ipods, lipsticks and sunglasses case, yet still leave room for make up and more…… Because God knows, I love to cram as much as I possible can into my work bag especially if Im leaving the house early and not getting back in till late
And guess what…
I found one…
Let me introduce you to The Mia Tui Amelie Bag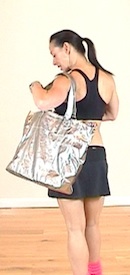 The perfect bag for busy Fitpros – Check out Mia Tui Website and if you would like to get the chance to Win one of these super cool bags.
Please tell us what is be the most useful feature of The Amelie Bag and to go over and "like" the Mia Tui Facebook Page you can add your answers in the comments below and I will choose a winner.
Please comment below to win an Amelie Bag!
http://www.facebook.com/miatui
To get 20% discount of one of the Mia Tui bags use the code MT102
---