Wednesdays Inspiration & Motivation from Rachel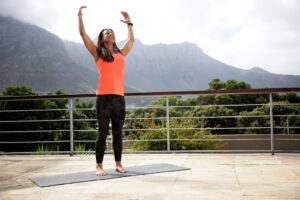 WHO IS REALLY STOPPING YOU……
There's absolutely No REASON why you're not living a life you love
Right Here….Right Now (I've always loved that line from a Fat Body Slim Track)
We just love to make excuses – we love to justify that behavior.
We blame people, events, circumstance, ourselves, family members,people who come to our classes…..in fact anyone or any life situation can come rolling into the blame equation.
Blame. Blame. Blame.
But the truth is, YOU Have the power to create or destroy the life you REALLY want.
So my biggy of the day is……….drum roll please
"WHAT THE HELL IS STOPPING YOU???"
Yesterday, as I wrote in my uber cool Tuesday motivation email to you,
I didn't get up in a positive mood, I woke up feeling grumpy, stressed for time and generally not beaming with positivity.
I was swimming in soup and could not move ahead.
I had to have a real word with myself to turn it around.
Affirmations, writing my motivation email to you, teaching my lovely freestyle classes,cuddles with my god son, seeing my friends for a coffee….
Turned it all round.
But it got me thinking how do YOU really want your life to look in 6 months,12 months from now…….
You WILL wish you started that new business ideas – If you don't someone else will do it thats a 100%
You WILL Wish you got rid of that toxic class thats draining you even though its only 3 weeks into January!.
You WILL wish you had got into the positivity groove and worked on your self development.
You WILL wish you had read those books, been to see that film, taken tea at the Ritz, been to Gorden Ramsey, Paris for the day on Eurostar or whatever else you really want to do (Andrew Crawford)
You WILL Wish you had started that new class, attended that workshop, subscribed to that course.
You WILL wish you had been brave enough to make a business plan and ACTION IT.
You WILL wish you had sorted out your sugar addiction, nailed your nutrition, worked on your 6 pack and dropped down to the body fat you REALLY want to be.
So, while you are walking the dog, training, teaching, doing your accounts this morning ask yourself his question
"What is stopping YOU from finally committing to the new projects"
Sometimes just stopping for a moment to really give this some though and clarity will inspire you to move ahead and a lightbulb will come on.
Bust through those fears and get into the business of…just doing it…Like…NOW
This happened to me yesterday and today it's full steam ahead designing the lifestyle ad business I REALLY REALLY Want…
Go get em Tiger….
Have a Wicked Wednesday
LOVE ALWAYS RACHELxxxxxx
PLEASE TWEET me @RACHELHOLMES or email me about these newsletters I LOVE TO HEAR FROM YOU x
Do you need to smash your sugar addiction and do some training for you?
My next 14 Online KSFL STARTS Monday – New Workouts/Tweaked Protocol
14 Day KSFL SHRED Programme click here
Do YOU want to get into the Fitness Industry and teach others, spread your message and make an impact on peoples lives? I offer all of the main qualifications as online/distance learning options
Level 2 Exercise to Music
Level 2 Gym click here
Level 3 Personal Trainer
Level 3 Pre and Post Natal
Level 2 Teaching Fitness to Children
Level 3 Pilates
---