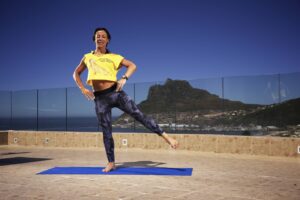 "I let go of my need to control and let the UNIVERSE do her thing"
This is the perfect affirmation for a Sunday from
Gabrielle Bernsteins
Spirit Junkie Book.
Maybe today, let go of the todo list and the plans and
just be, do and let the day ride.
That's such a luxury isn't it, and something a lot of
us reading this email
find hard to do.
If I've not got a plan & a todo list & a schedule & a training slot
I feel like I'm wasting time…precious time.
I panic.  Get anxious and that negative voice starts
taking me down.
LETS STOP….. BACK UP.
Change those thoughts and feelings (Getting good at this now!)
Often we are in such a rush to get all the
big goals ticked of in life,
personally & professionally, and, sometimes
we rush headlong into choices before you have even discovered
who YOU are, What YOU need and what works best for YOU.
Have you ever woke up and thought
"Shit, I've made a huge mistake ????" AHHHHHHHHHHH
You can crack on with the to do list tomorrow.
(I'll try & end you a motivational
tomorrow that will FIRE you up)
So, today, Could YOU be discovering yourself a little more?
Why not try and do some simple meditation,
if only for a few minutes and listen
to what comes up?
Have you tried meditation followed by
writing/journalling
or scribbling?(in my case!)
Even a busy fitness instructor with a super active, jumpy
mind can take a few moments to just write after a moment of stillness,
let the pen flow, don't edit, don't correct just let RIP BABY.
Gabrielle Bernstein calls this ~ING writing &I find it sooo
useful to really discover what I REALLY need.
Try it. I highly recommend it.
Be actively involved in YOUR process of self discovery.
Have a Cool Chilled Sunday
PLEASE tweet me or email me with your
thoughts & feedback
I LOVE to hear from you and I LOVE to hear if you
use the affirmations.
Love Rachel xxx
PS If you are thinking of going to see a movie.
I CANNOT recommend
highly enough the Dallas Buyers Club.
Matthew McConaughy is outstanding!
Fitness Pilates is expanding!
Kelly Reed-Banks is coming on board
as Operations Director.
Watch out for new courses, trainings,
website & apparel
Our next Fitness Pilates Training Course is
12/13 April and there are
only 3 places left.
If you want to get trained up then jump on
https://www.choreographytogo.com/fitness-pilates/
---