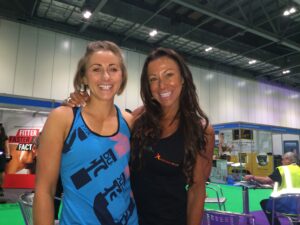 WOW!
Just got back from Fitpro LIVE.
& HAD to scribble a quick
over excited note to you.
It was CRACKING!
Excel was just THE best venue
& huge improvement on Loughborough
Uni.
All the sessions in one EXPO.
Loads of nice bars & restaurants
within in seconds walk
AND
FLIPPIN A-MAZING sessions &
lectures,
One (Of a million) highlights
for me was the inspiring
& courageous
Katie Piper (google her if you don't
know who she is)
Her talk about her horrific ordeal
& how she used the power of the human spirit
& creating a positive mindset
just rocked you to the very core.
In 2 days I have learnt & experienced
so much from not only the sessions,
but spending
time with my peers, other educators
& the general buzz with everybody
attending.
It was just wicked!
& I CANNOT wait to share so much
with you this week.
Katie's mantra when facing her darkest days
was
"A negative mind will never lead to a
positive live"
How TRUE is that?
Quick Highlights
1: The Zumba Academy was kicking
& seeing BETO live on stage was surreal!
2: Dr J Beradi's nutrition was outstanding
(I'll be implementing a lot of new info
& research into KSFL)
3: Jayne launched the HOT YOGA
& HOT PILATES…
Will be bringing you info on that.
4: PR/Marketing & Sales with
Lesley Aitkin – Totally brilliant new age
promotional ideas.
5:Jenny Burrells – Pre/Post & nutrition
talks, VipR training. simply awesome
So many great sessions.
Remember today…
"A Negative Mind will never lead to a
positive life"
Have THE Best Sunday
Love Always
Rachel xxx
Tweet me
I'm updating the C2Go website today
so you can still grab the
Level 3 ONLINE Nutrition Qualification
at £250  VAT
Be Quick though as I'm updating it all
shortly
---