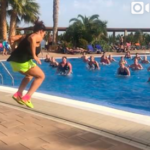 What do you desire in 2018
I don't mean a flip comment here, I mean what do you REALLY desire in your fitness, personal and work lives.
What makes you happy?
In the grand scheme of everything are you reaching your full potential in the fitness industry?
The general public needs our help, there is enough business to go round for all of us 100 times the bridge is the marketing – Getting your message out to the right customers has changed  and as social media develops  on a daily basis and is part of our daily lives and communication, harnessing the power, leverage and reach of social media will undoubtedly help you reach more people.
Social media IS time-consuming and having a strategy and understanding the nuances of each platform is key.  
But I have to tell you everyday I do a little happy dance because 15 years ago at this time of year I would be running backwards and forward to the printers, designing over priced flyers of which boxes would sit in my garage for the entire year, while I walking the streets posting flyers through letterboxes – NOW I can create content, write posts, make videos while sitting at home in the warm! Its SO Much easier and much more fruitful.
This week I tested new Facebook and Instagram ads and got a great response but the only way to work all of this out is to roll up your sleeves and have a go.
Time Management
Time is something no one can get back or buy, so make 2018 the year you invest in your time. Treat your time like gold and only invest in tasks, work and projects that you are passionate about and enjoy doing.
Even on Facebook – participate in the positive groups – be around positive people who are striving for more.
Ideas To Save Time 🙂 
1.Stop doing tasks outside of your skill set. I've written numerous newsletter articles on outsourcing, so pay someone else to do all the things you haven't got the time to learn or do. If you want to grow your fitness business online then the jobs you can't do and will never have the time to learn, outsource.TRIPLE DOWN on your strengths. Do what you are best at and outsource the rest.
2. Send digital gifts to people that don't need wrapping and posting. Amazon/iTunes all a myriad of online retailers do gift certificates, or treat someone to an audible subscription. What a wonderful gift that would be to receive a audio book every month! That would be my ideal gift.
3. Stop doing it alone Get a business coach, a personal trainer or a mentor who can help you get where you want to be in record time. You don't need to figure it out alone, there's a specialist  out there who can help you, someone who has done before what you want to do, and pay them to coach or teach you. Even trainers need a trainer.
4. PRICING – Questions about how much to charge comes up EVERY week in my groups. It's THE big one that most community instructors agonise over and I mean agonise.
PLEASE Stop charging the lowest possible prices for your services – YOU WILL NOT BE ABLE TO make a living.
5.Stop purchasing books and courses that you never read or complete. Or don't buy any more books until you've finished the ones you already have. I'm a book junkie as I love reading, but I have a pile of books I've never even looked at. Don't buy any more until you have read and finished with the ones you already have on the go.
Look back at 2017 and work out what jobs, classes, tasks or people SUCK and kick it out for 2018. Please, with all my heart I beg you only to focus and do the stuff you love, are passionate about and gets you out of bed every morning The rest just has to go.
Results – How Do You Stand out in a busy fitness industry
To stand out and be different in the Fitness Industry leverage your knowledge with your passion and what interests you within health, wellness, fitness, training and nutrition.
So what rocks your fitness world?
Forget about what's fashionable or bankable, identify what YOU love and adore, then go after that group with your services. Create services, programmes and classes based on your passion.
Do you like helping mums who have just had a baby?
Do you love training folks for triathlons?
Do you love running?
Do you adore the camaraderie and fun of older adults?
Do you find being around teenage girls fun and uplifting?
Do you find working with under 5's enjoyable?
Do you love cooking?
Do you like the business like approach of being in a  corporate environment?
Do you enjoy helping people lose weight?
There's a plethora of people you will love spending your working time with and helping I guarantee and you have the skill set and passion to do it.
And that's where you will succeed.
Working, creating and conceptualizing programmes for demographics you are passionate about and love will be the most successful project you ever do.
Take 2 minutes to have a quick brainstorm  who and what is your personal fitness passion?
Reflect and take the time to brainstorm.
We spend such a lot of time working, so spend it with people you are passionate about and who you want to be around, otherwise work becomes a serious chore and you'll burn out in no time.
The Idea Fairy
Bang out of the blue, when you least expect it and usually when I've been working out, teaching or often in the shower the idea fairy calls.
That voice you hear with an idea that suddenly excites you.
In 2018 CAPTURE it and move on it fast.  
When do you get your ideas?
When you feel an idea coming on you have to capture those thoughts as soon as they come up.
Leave a notebook on your bedside table, or take your notebook everywhere with you or write in your notes section of your phone.
Don't assume that idea will come back, it probably won't, so capture it right away on your iPhone or in a note book
Map out your idea and go after it.
Remember keep moving from idea to idea.
Start to see yourself as a health and fitness artist.  You are a creative artist and it's important to keep moving as the industry and the needs of our participants evolves.
SETH GODINS, who is another of my favorite authors, encapsulates the  DEFINITION OF ART.
Art is a gift
Being artful is pouring your soul into it.  
Be artistic, bring something thoughtful forward
Create from your soul and you won't go far wrong.
I hope you find this newsletter inspiring!
Its such an exciting time of year.Hhave a great THURSDAY
Rachel x
Where you will find all of my FREE Content
FOLLOW me on Instagram – @RachelLHolmes
I post daily 1 minute HIIT workouts here so brilliant for quick and easy ideas!
FOLLOW the new Instagram for Fitness Pilates – FitnessPilatesUK
Daily quick Fitness Pilates workouts, exercises. @Fitnesspilates1
Have you trained with me or Kelly in Fitness Pilates?
I host a wonderful group of FP teachers where we share ideas, updates, motivation, support, music, PR ideas
so please join in
https://www.facebook.com/groups/1139576346076922/
YouTube – SO many Choreography videos here
Im posting daily so subscribe to get the updates.
https://www.facebook.com/groups/845793672151353/
Do you want to add another level to your business? Why not offer KICK START click here
---