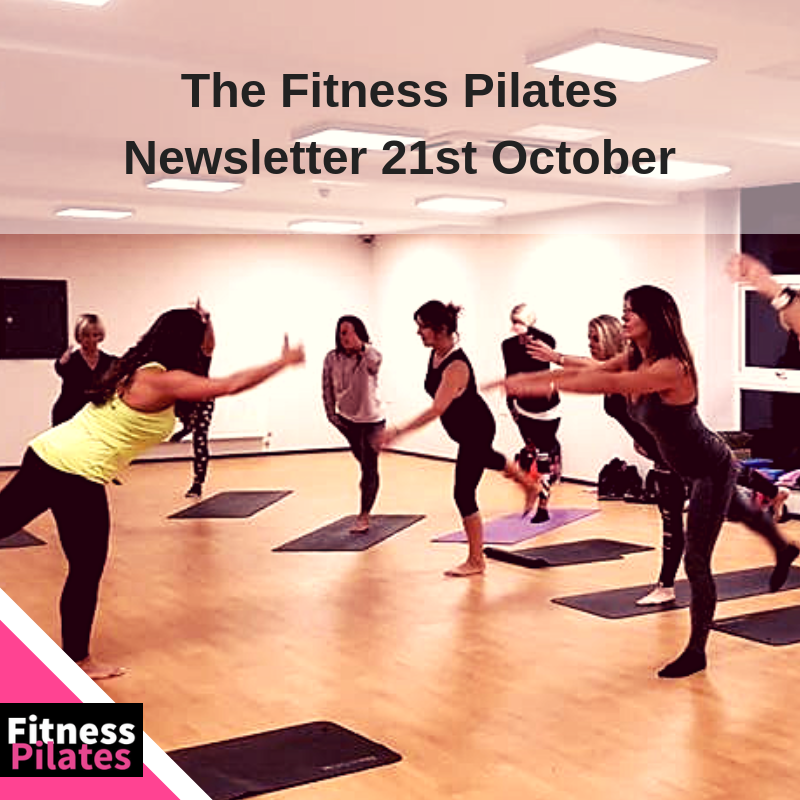 Fitness Pilates For Tense and Tight Shoulders click above
Fitness Pilates Newsletter
21st October 2018
Good Morning  
I have added a simple routine for tight and tense shoulders that can be added into your warm-ups (click the link above)and I love to hear if these little videos are helpful and spark your inspiration.
 You are very welcome to use the "WHAT IS FITNESS PILATES" graphic we created above and I've posted it in the Fitness Pilates Instructor Facebook Group which you can easily screenshot or download and use on your social media.
Fitness Pilates Business Builder – For Instructors Running Community Classes & Business in 2019
Here are my absolute critical foundational pieces to marketing, promoting and operating your own classes and services.
* A mobile-friendly website/ blog that you update 4 times a week – Customers can book your services, classes, see your offerings, a base to send your newsletters from and drive traffic and new leads and customers.
*Understand how to drive traffic/leads/queries from social media to your website for email capture.
*A robust newsletter system -Mailchimp, Awber etc and regularly send out newsletters, offerings – understand email marketing at a higher level.
*Build your Instagram business account.
*A private Facebook Group for your clients where you can upload videos, tips, news, updates, women's health information, exercise technique videos and create a digital community of people who attend your classes.
Business and Class Ideas
*Get your gift vouchers ready for Christmas presents – get a graphic designer to create your vouchers for  
xmas gifts.
*Small Group Fitness Pilates and Personal FP sessions are booming – Are you offering SGFP?  
*Small Group FP & Personal FP with Nutrition & Wellness 4 &
6 week courses – Live or Online 
*KIds FP classes – Have you done the qualification?  This is a boom market you could be partnering with another FP Teacher and running
a FP Kids camp for holiday times – 2 classes –  1 for adults and 1 for kids running concurrently in a venue with 2 rooms?
*FP 5 day Technique Camp –  A daily class for 5 days.
There are SO Many class and business options.
It is exciting times and October/November is a great time for reflection,  change and get analytic with your current offerings to stay relevant and on top of your business.
I spend more time now than I ever have studying and evaluating the analytics and metrics for marketing, social media and advertising. Time is so precious and constantly reevaluating where you are spending your time and money (and energy) is crucial for short and long term business success.
Have a wonderful Sunday
Love Rachel 
Feedback and Questions?
I love to hear a from you use the messenger app on the Choreographytogo.com website. Emails often get lost in the ehtha and I miss them.
Level 3 Diploma Course Dates 
*Remember to book early for your prep and reading time*
Choreographytogo is the official Level 3 Pilates Provider for Virgin Active Health Clubs
23/24/25 November – Birmingham 1 places left David Lloyd Solihull
18/19/20 January – Bristol David Lloyd Westbury.
1/2/3 March – London Barbican Virgin Active
5/6/7 April – Manchester Salford Quays Virgin Active
17/18/19 May -Nottingham Virgin Active
CLICK HERE for all the course information and booking
The Level 3 Pilates is £860
Fitness Pilates Training Dates 2018/2019
The dates for 2019 Fitness Pilates Courses are up and I am filming the whole FP course including all lectures and practical workshops to accompany the training. The course is now 1 full contact day with the new Fitness Pilates eLearning platform and online workshops and videos.
Click here to book.
3rd November Essex David Lloyd  Gidea Park   Tutor Kelly 12 – 630
8th December NOTTINGHAM Venue and Times TBC Tutor Rachel
2nd February 2019  London Tutor Kelly Harbour Club Kensington 12 – 630
9th February 2019   Manchester Tutor Kelly venue to be confirmed 
9th March 2019 Bristol David Lloyd Westbury Tutor Kelly 1245 – 645
27th April 2019 Birmingham  Tutor kelly  venue to be confirmed
17th May London  2019 Tutor Kelly Harbour Club Kensington 12 – 630
---