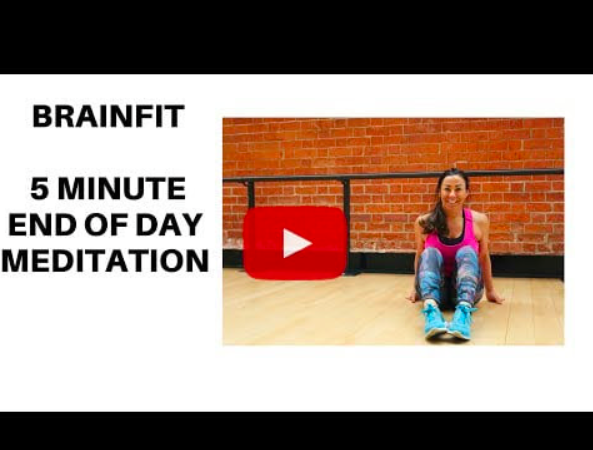 Fitness Pilates Newsletter for 10th February 2019.
This week you will find above 2 mini meditations that you could use at the end of class in your relaxation section.
One is a very simple LET GO Meditation using the words LET GO to serve as a mantra and the other is an "end of day reflection" meditation. These are my simple interpretations of guided meditations that work for me personally and my classes. We often get stuck in a "relaxation" rut and tend to say the same things over and over so I hope these inspire you to be a little more creative and thoughtful.
Do let me know if these are useful to you…if so I'll film more.
Fitness Pilates Instructor Event Of The Week 
Alison from Alis's Freestyle Fitness took a leaf out of Jackie Daly's book last week and is organising her own Mind-body Fit day and again in 10 minutes had sold out. Is this something you can organise? It will certainly elevate your business and brand locally.
"I advertised this and had 25 booked in within 24 hours with a waiting list.
Im charging £15 per person and am going to put a 'goody bag' together (bath salts, Pilates/yoga strap, healthy snack,bottled water) to make it extra special!! 
🏻🧘🏻‍♀️
" Says Alison.
Alison recently completed the Fitness Pilates Health Coach and is also offering online Women's Health Programmes in conjunction to her live classes.
ARE YOU TEACHING THE LATEST FITNESS PILATES INFO?
As you know with FP there is not an obligation to upskill and do more training to keep using the Fitness Pilates name BUT please, it is so important that you stay updated with everything new. Kelly and I are constantly tweaking and adding new components to FP and it's imperative you are not teaching older and outdated information.
I have created a road map below showing you each online course and where it fits in with your learning – I really hope this helps which course is more beneficial depending on where you are in your journey.
Did you qualify with me many years ago or feel like you need a refresher? Click  for information on the FP REFRESHER course book today and start your new classes soon.
Fitness Pilates Pathway
Step 1 QUALIFY AS A FITNESS PILATES TEACHER 
Start teaching and gaining experience.
Step 2 UPDATE WITH FITNESS PILATES FOR ORTHOPAEDIC CONDITIONS 
As you gain experience up skill and educate on common orthopaedic conditions that clients will have who attend your classes so you know the do's and don't of common conditions.
Step 3: WOULD YOU LIKE TO OFFER MORE SPECIALITY FP?
3 directions
A.Teaching Fitness Pilates To Children
B.Advanced Fitness Pilates For Pre and Post Natal.
C.Fitness Pilates Personal Trainer and Small Group Certification.
Step 4 – Teach A Greater Depth and Add A Wider Service To Your Business INCLUDING OFFERING AN ONLINE COMPONENT TO YOUR CLASSES.
Include A Women's Health Programme Live Or Online To Compliment your FP LIVE Classes.
Serve your women on a deeper level become a Fitness Pilates Health Coach and include nutrition, lifestyle, hormonal balance, stress reduction. mindset coaching and motivation.
Take the online Fitness Pilates Health Coach – This is our Flagship Course.
I hope that helps and of course please send us a message via the messenger app on Facebook if you have any questions or post in the Fitness Pilates Instructor Facebook Groups CLICK TO JOIN 
Have a great week
Love Rachel xxx
Instagram RachelLHolmes Fitnesspilates1.
Facebook.com/FitnessPilates
 ****My Other Newsletters*****
NEW BUSINESS BUILDER – This is a new newsletter and its for all Professionals who want to grow their business and get new customers into classes.
* Do you want to grow your fitness business online?
Do you want to understand more about social media and how you can use it for your fitness business?
Are you interested in the latest marketing, PR and revenue generating projects?
Read about the latest social media tips and strategies. 15% Discount on courses, meetups and networking events.
Sign up for Rachels FREE new business newsletter.
This is for all Fitness Professionals who want to create more income and build a successful and sustainable fitness business.
The C2GO Newsletter for all GROUP Exercise Teachers comes out every Thursday click here to add your email. CLICK HERE TO JOIN
Kick Start 2019Newsletter –  Get 15% Discount on all of my Kick Start Courses, Products, Programmes & Events when you sign up to the KICK START 2019 Newsletter.✅Womens Health & Wellness  Workouts & Fitness Nutrition & FoodLifestyle CLICK HERE TO JOIN
**New Dates Guildford, London, Birmingham**
*Remember to book early for your prep and reading time*
Choreographytogo is the official Level 3 Pilates Provider for Virgin Active Health Clubs
1/2/3 March – London Barbican Virgin Active
5/6/7 April – Manchester Salford Quays Virgin Active
10/11/12 May -Nottingham Virgin Active
21/22/23 June Guildford 
27/28/29 September London
22/23/24 November Birmingham 
CLICK HERE for all the course information and booking
The Level 3 Pilates is £860 or pay in installments
---