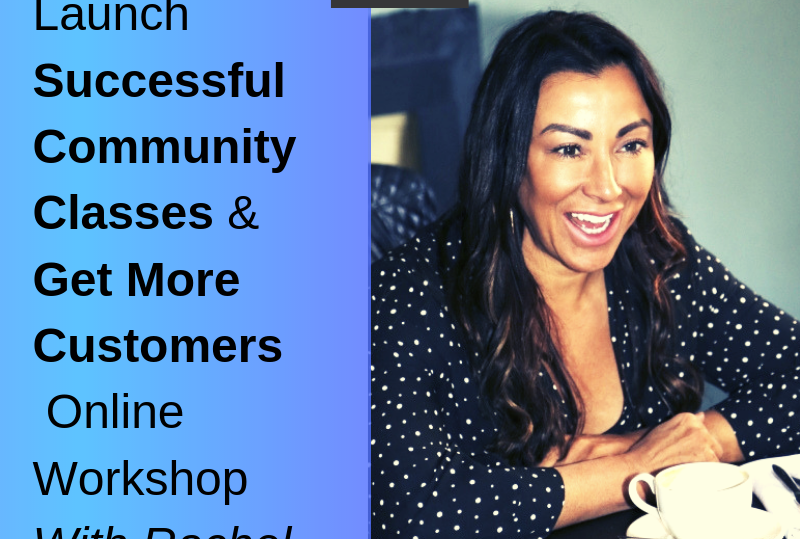 ***Do YOU need a Step by Step Plan to launching your community classes or help to generate new leads and customers for your Classes ?****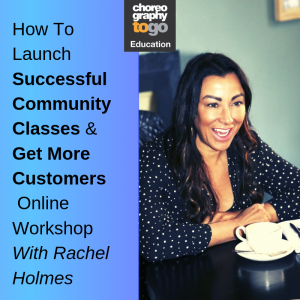 READ ON………..
I ran the LIVE Business Brunch event last month which was brilliant, and I've held many LIVE business building workshops over the last 20 years but its hard to choose locations and travelling and weekends etc and I have so much  KNOWLEDGE and EXPERTISE  on this subject that I can help you all with – so I am setting up a new Mastermind Online Workshop series.
This will be designed to help you get more customers. More Leads. More Enquiries. More Interest in what you offer and how to think about your business.
There will be notes a PDF and 90 minute workshop – plus the recording of the full workshop so you can watch back if you can't make the LIVE training.
How To Launch Successful Community Classes & Get More Customers – Online Workshop With Rachel Holmes.
Wednesday 8th MAY 1:30pm – 3pm
Venue: Your House it's all ONLINE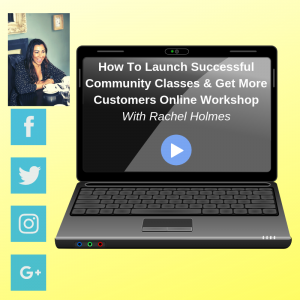 Join Rachel for the 1st in a new Online Mastermind Workshop Series For Fitness Professionals, Personal Trainers, Bootcamp Instructors, Movement Specialists, Pilates Teachers, Yoga Teachers, Mums and Babes Teachers, Aqua Teachers, Active Senior Instructors, Nordic Walking Teachers, Zumba Teachers, Clubbercise Teachers, whatever you teach THIS WILL BE YOUR BLUEPRINT.
If you want to launch community classes or already teaching in the community but need MORE customers, get more leads and increase your income…….. DO NOT Miss this online workshop mastermind.
* Don't know where to start with promotion, social media, emails, create graphics, videos.
* Want to earn more money from teaching fitness classes and attract more customers.
* Understand Facebook and Instagram to generate new business – not likes BUT LEADS and CUSTOMERS.
I'll teach you my 10 Step Formula in how exactly what to do in what order.
This is an exclusive Mastermind Workshop with limited spaces on the Online Workshop.
You will get the chance to ask questions and I'll answer them all personally on the workshop.
***Can't make the LIVE Masterclass you can still book a place and have the recording***
WEDNESDAY 8th May 2019
1:30pm – 3pm
There are 50 places on the ZOOM Workshop
After this workshop, you will have the knowledge to increase your income and understand the step by step process into launching community classes and ultimately get more clients.
Kind Regards
Rachel x
---