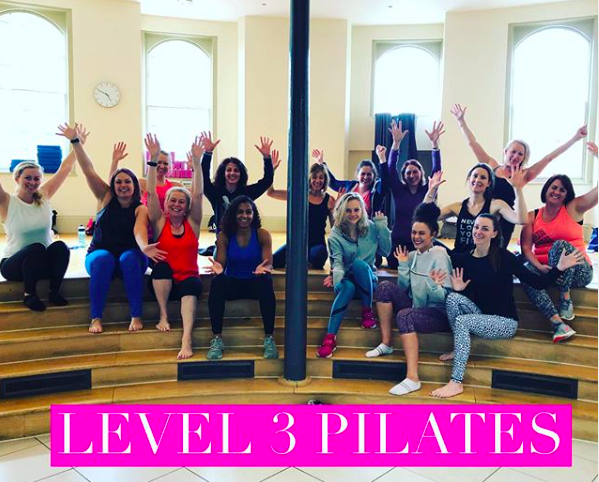 Fitness Pilates Newsletter 13th May 2019  
Fitness Pilates Activation Bands
I have been scouring the earth for super strong, fabric, non-slip bands suitable for standing, alignment, floor work and moving exercises …..and after much testing and discussions with the Chinese manufacturer I have nailed exactly what I wanted. Check out the video above so you can see them in action.  I'm expecting the first shipment this week so will keep you posted on prices, bulk orders and the training videos that will accompany.
WELL DONE to our Level 3 Nottingham group from this weekend: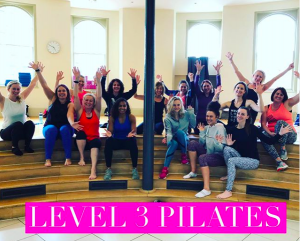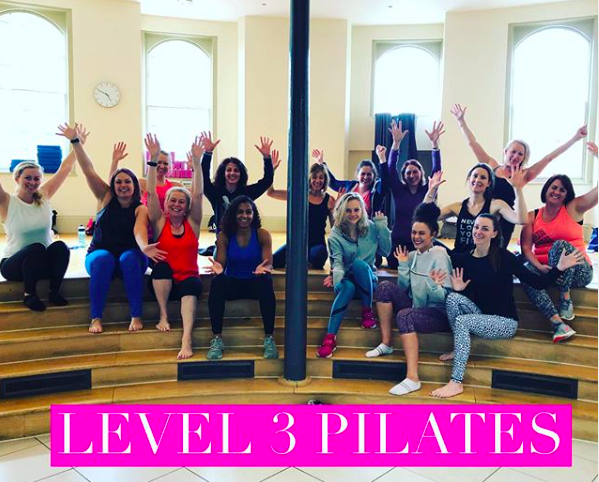 "Brilliant 3 days delivering contact days for the level 3 matwork diploma in Pilates for Choreography To Go
Such a lovely group and we can't wait for you to start your journey & to receive your portfolios." Thanks Kelly and the team!
**Exciting News**
Active IQ Level 4 Certificate in Instructing Pilates Matwork
For the Level 3 Pilates Instructors who want to further their education we will be offering the Advanced Level 4 Pilates course in London this Autumn.
Music
To receive a 10% Discount on any PURE ENERGY Music use my code at check out RHPP. I love the Mind Body 19,20,21 and the Licence free music I use on all the videos is Pro Beats 3 but have a look through the site there are many beautiful mixes for your Pilates classes.
Fitness Pilates VIP Month 2
Month 2 is now up and online in the member's area so if you are a member and you have been on the VIP for 4 weeks you should get automatic access. Do let me know if there are any glitches.
Business, Marketing & Promotion
Last Wednesday was the first mastermind webinar series on how to launch community classes with no website, email list or large social media following and it was a non-stop avalanche of info!!!…. I didn't stop talking for over  90-minutes. I went THROUGH everything you need to do to make it happen. 50 Instructors jumped in live and many got the recording and workbook who couldn't make te live training.
I'm passionate about helping you amplify your message and build a business with an income to match the effort you put in. So this week it's all about Instagram. IG is the fastest growing social media platform and Ill give you the tools and blueprint to generate LEADS and  CUSTOMERS. If IG is baffing you and your not sure where to start and with which bit. JUMP IN click here for details.
It's exciting times in the Pilates world with so many people looking for classes all over the UK. The technique continues to grow and expand and you are able to offer general population classes or specialise and offer niche classes for specialist populations. 
Wishing you a fabulous week and look forward to seeing you on training very soon.
Kind Regards
Rachel 
*Choreographytogo is the official Level 3 Pilates Provider for
Virgin Active Health Clubs*
21/22/23 June Guildford Spectrum 1230 – 630   
27/28/29 September London Virgin Active Barbican 11 – 5
8/9/10 November Birmingham Solihull Virgin Active 11 – 5
10/11/12 January 2020 Bristol David Lloyd Westbury Times To be Confirmed.
31 Jan/ 1/2 February 2020 LONDON Virgin Active Barbican Times To be Confirmed
CLICK HERE for all the course information and booking
The Level 3 Pilates is £860 
Did you qualify in Fitness Pilates over 10 years ago?
Have you continued to upskill and educate?
It's important you are teaching the latest and current information in regard to Fitness Pilates. There are several routes to upskill.
Fitness Pilates Refresher ONLINE course
Fitness Pilates For Orthopaedic Conditions Click here 
Advanced Fitness Pilates For Pregnancy Click here 
Level 3 Pilates Matwork Diploma 
Fitness Pilates SUMMIT 2019 18th November LONDON 
---