FITNESS PILATES Newsletter
Fitness Pilates Exercises – Small Tweaks & Simple Ideas.
Click the video above to see the exercises described below.
I've been playing around with the spiky balls and mini balls this week. I chose the exercises above in the little montage as they work well in mixed ability groups, you don't need to do many reps and beginners can easily take the balls away if they need more stability.
The balls provide instant feedback as to whether the core muscles are being recruited adequately to maintain alignment and stability. 
PLUS, just by balancing ON the balls the core muscles come into play or the client will simply flop of the ball onto the floor 🙂 
Exercise 1 with the Spiky Ball. Place the balls under each foot adding as much pressure as required. Move into bridge feeling the pressure on the feet increase as the weight transfers. Add leg slide with control syncronising breathing with movement.
Exercise 2 with Mini Ball. Side-lying exercises are hard even WITHOUT an unstable surface!  Place the mini ball under the hip to increase the core contraction, balance challenge and proprioception. It's a wonderful challenge and great for giving the client immediate feedback.
Exercise 3 with the Mini Ball. Extended Ab curl prep. Place the ball under the thoracic spine to encourage an increased extension.
Exercise 4 with the Mini ball. Place the ball under the hips. "Attempt" Side-lying abduction, hip circles and scissors. shoot for 8 quality reps of each!. It's a tough one.
Exercise 5 with the Mini Ball. Place the ball under the thoracic spine add a half roll back with increased extension holding and rotating the trunck For variety add the opposite knee.
Teaching Tips
1: Promote lateral breathing and where possible marry the movement to the breath but don't let breath confusion be a barrier to students. 
2: Focus on quality, precision and concentration. You may only do 4/6 reps.
3: ENJOY  and connect with your class. Using the balls is FUN.  It really is a giggle with clients struggling with balance and coordination, make the process light-hearted and enjoyable. 
I hope you have gained a few ideas for your classes this week.
Let me know I'd love to hear from you.
Have a lovely Saturday.
Rachel xx
PS Don't forget the Fitness Pilates Summer School Sale and join me in Manchester on 10th August and Bristol on the 17th for an activation Band workshop.
SUMMER SCHOOL SALE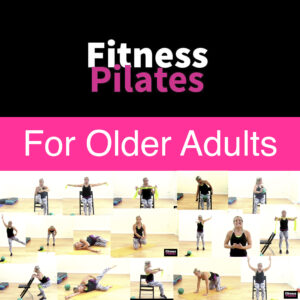 Fitness Pilates For Older Adults Online Workshop 
£97.00 £47.00   CLICK HERE TO ORDER 
Fitness Pilates For Older Adults
ONLINE Workshop contains 8 videos with unlimited ideas for your older adults.
Don't delay its a wonderful course and not just for FP teachers tons of ideas to use right away in class.
ON SALE For the next 24 hours.
Video 1 Intro and Seated Warm Up
Video 2 Main Seated FP exercises

Video 3 Chair continued

Video 4 Seated Bands
Video 5 Seated continued

Video 6 Standing and Balance

Video 7 Sequences and Modifications

Video 8 Conclusion
FITNESS PILATES FOR ORTHOPAEDIC CONDITIONS From £197 to £147
Our best selling FP  Workshop To Date
We cover the following in the detailed 84 page manual and interactive online video platform:
Frozen Shoulder

Tennis and Golfers Elbow

Arthritis

Osteoporosis

Hypermobility

Non specific back pain

Hip and knee replacements

Muscular tears

Rotator cuff injuries
Piriformis syndrome

Sciatica

Slipped disc

Disc Herniation

Improved Biomechanics and Functional Movements

What exercises are appropriate and which ones to avoid?

Functional assessments and choosing the best exercises and movement patterns.

Highly specialised training day for those coaches wanting to go deep into this area.
CLICK HERE to purchase from £197 to £147 today only.
ADVANCED FITNESS PILATES IN PREGNANCY certification

This course will provide you with a thorough understanding of the relevancy of Fitness Pilates to pregnant women and outlines the benefits, as well as correct and effective Fitness Pilates exercises for them in all three stages of their pregnancy.
We have also incorporated a section within this certification to help you aid participants who are trying for a baby in the pre-conception unit which also covers IVF treatment.
---