Good Morning  Welcome to the Fitness Pilates newsletter.
How are you? I hope your FP classes are doing great and you are loving teaching.
Level 4 Updates – We are SO close to finalising the course and the course content, there will be speciality guest tutors plus Kelly and I teaching. We hope to have booking details by the end of September. The date for the first course will be 21st – 24th November at Virgin Active Aldersgate, London.  If you would like to be notified as soon as I have the details please email or Facebook message me.
Fitness Pilates Quick Ideas Mash Up
Click the link above for my current exercise favorites. I have edited this week's little clips altogether.
1:Tickle Ball – This is HARD. Take the ball overhead and gently tickle the ball up the leg. Try it with single leg and double leg. It's a fun exercise to try.
2: Double leg stretch squeezing the mini ball between the knees
3: Roll Up into spine twist.
4: Plank with knee and hip drivers.
5: Press up into Hip Extension.
These can all be modified and taught to various levels and are meant for inspiration and class challenges.
WELL DONE and WELCOME to the family Fitness Pilates Instructors from Guildford Training at the weekend x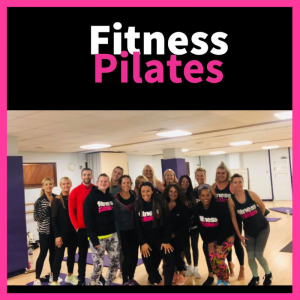 CHELMSFORD ESSEX
Activation Band Workshop – I've added a new date Saturday 19th October at Virgin Active Chelmsford. It's booking really quickly and I'd LOVE to see you  Click here to book  or Nottingham on 13th October.
Do you want to work with international Fitness Brands?
It's easier than you think! This week on the podcast I talk to Steve Barrett.
In this conversation, we discuss how YOU can get into working with global fitness brands.
Steve shares a wealth of  tips and the exact steps you can take if you are looking to widen your horizons in the fitness industry
If you want to work for global brands, present training and attend the biggest fitness shows in the world this is the podcast for you! This is not about working full time for a company but adhoc work for qualified Instructors. I can't wait for you to listen to this very insightful and interesting conversation
️Podcast
️
How To Offer a 12 Week Women's, Health and Wellness Online Programme. Use this template and get into the online space click here
---