Good Morning
How are you?
Another action-packed newsletter with class and business ideas, as always, my aim is to inspire and motivate you to create amazing classes and services for your clients.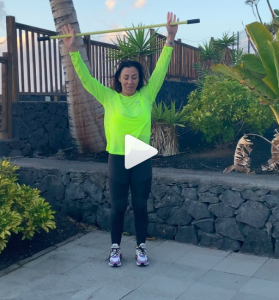 TRI-BARRE Fusion
Fusion classes are a brilliant way for clients to sample different styles of group X. They are wonderful for beginners and attracting new clients…perfect for 2020.
Fitness Pilates, Barre & Yoga Fusion Class
I teamed up with Yoga Teacher Malin Berg this week to teach our fusion class of Fitness Pilates, Barre and Yoga and it went down a storm! We choreographed it to Essential House from Pure Energy, so the class has a very edgy-cool house vibe to it.
The class plan is as follows:
15 mins Standing FP Sequences
15 mins Barre – Functional style
15 mins Barre – Yoga Style.
15 mins Yoga
The class was a lot of fun and the participants really enjoyed the fusions.
Click here for Essential House from Pure Energy use code RHPP for a discount. It's a cracking Mix.
INFINITY BANDS
If you came to the Fitness Pilates SUMMIT you will have tried out the Infinity Bands in my masterclass and together with the Activation Bands are PERFECT for community Instructors on the move.
They open up so many more exercises and sequences. The IB is one size. I've created a mini mash up video for you to see how versatile they are.
Click the link below to see the video and to order your bands click here
Join My 10 Day WHATS APP Business Building Programme Starting 2nd Jan 2020
The Whats App Business Coaching and Building groups have been a hotbed of networking, brainstorming and ideas so Iill be taking Whats App to the next level – click here for the details and be one of the first 20 to sign up CLICK HERE
LEVEL 4 PILATES TRAINING
20/21/22 February 2020
Venue: Central London Virgin Active Aldersgate.
Click here for details on the Level 4 Pilates
Wishing you a magical fun-filled day
Love Rachel xxx
Follow me on IG RachelLHolmes and on my daily FACEBOOK LIVES @RACHELHOLMESFit
Live Events, Workshops & Training Courses.
Have You Booked  The Latest Activation Band Workshop?
Guildford Spectrum  11th January Click here to book 10 spaces left
Birmingham Virgin Active Solihull 130pm 18th January Click here to book 
EDINBURGH
I'd love to see you and I can't wait to share tons of great ideas and new class formats with you. PLUS you get a complimentary Activation Band, note and certificate of attendance.
EDINBURGH ACTIVATION BAND WORKSHOP TOUR
EDINBURGH I am bringing the Activation Band workshop to Bannertynes at Newcraig Hall on 8th February 2020 at 2pm – For all the Scotts who CONSTANTLY ask me "Will you bring the band workshop to Scotland" so please book on CLICK HERE I cant wait to see you.
Pilates Training
We have now introduced the Level 4 Pilates Qualification to our range of Pilates qualifications.
Fitness Pilates Training Course – Book a course
Level 3 Pilates Matwork Click here for dates
Are you A FITNESS PROFESSIONAL would you like to offer an online Women's Health and Wellness Business?
Check out the following courses to create online programmes for your clients and build your online business.
Kick Start Certification Course CIMSPA approved Click here
Lift Lean – Online Strength Training Programme For Women Click Here.
90 Day Women's Health –  12 Week Health & Lifestyle Programme. Click Here
Prime 2020 – Weightloss & Workouts For Women In The Menopause Click Here 
Elevate 1 – 12 week Transformation, Health, Fitness, Weightloss, Motivation & Mindset Click Here 
Add your email to the C2GO newsletter here,  Are you are interested in Women's Health – YES  add your email to the Kick Start Women's Health Newsletter. I also write a weekly Pilates newsletter which comes out every Sunday click here to add your email.
---