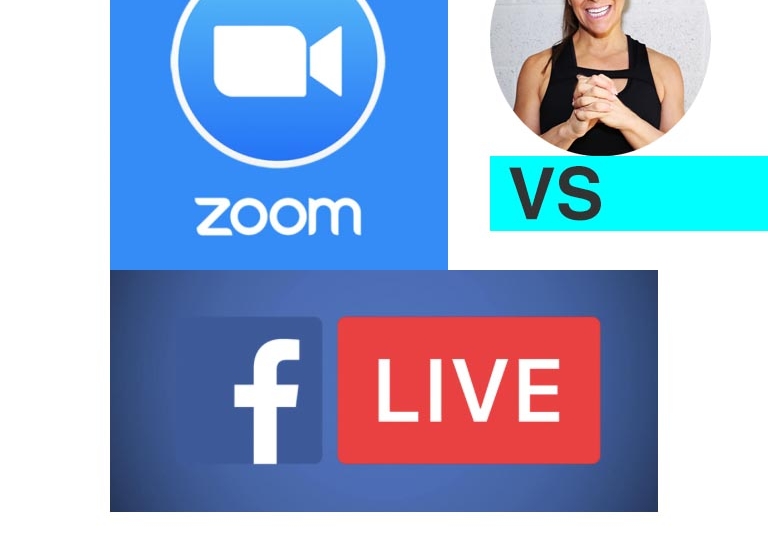 How are you doing with everything?
I hope you are settling into your new digital teaching. Last weekend me and Kelly ran our first ZOOM 2 Day Fitness Pilates Training Course and we were so happy with how well it went.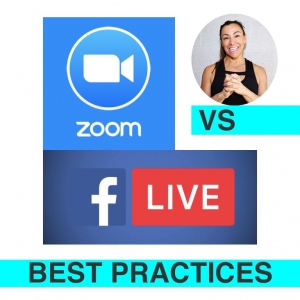 Zoom V Facebook Live
What is working the best and best practices?
They are 2 very different experiences.
ZOOM Conference.
Zoom is a conference and meeting platform so not designed to teach 100 people ETM BUT it works really well!
1: Try it first with friends to understand how it works.
2: Play your music via your itunes using the advanced settings – keep checking your settings and practice to get this right. Remember everyone is ZOOMing using different devices so this affects quality of audio.
3:Set up your meeting and copy the link to share with your participants.
4:Mute everyone as they come in or you will hear everyone and its sounds TERRIBLE.
5: Decide if it is a paid class or an Open/Free class.
6:Take payment via BACS, Paypal, BookwhenmGymcatch etc.
7:Give clients 5/10 minutes to settle and chat to each other and work out how to switch on webcams and audios etc.
**Here is what I send out to participants who have booked the class**
HOW TO JOIN THE CLASS VIA ZOOM:
Download Zoom to your computer (preferably) or phone.
For best sound quality, attach a small speaker.
Click on the link sent to your email or for phone, enter the meeting ID (also in email
Your mics will be muted when you log on, please leave them this way for the best experience and not to interrupt the sound quality
You can choose whether to join with your own video camera being on or not If you join with, your video will pop up for everyone, if you join without it's actually better quality on your end, but it is up to you 🙂
*** Please make sure you have space to work out and water handy***
It is A BRILLIANT experience and the more you do the better you will get at ZOOMING.
Just go for it….Let me know your ZOOM experiences.
I'll be running An Advanced  Fitness Pilates Special Masterclass Sunday Night ZOOM at 8pm Click here to Book £5 early Bird £3.50 or until its Full
Facebook Live For Workouts.
Facebook Live is quick and easy to set up, your clients can easily log onto Facebook and into your private group or on your page.
Your audience comments come up in real time.
Facebook Live Pros For Workouts
1:Quick and easy to set up and GO LIVE enabling you to reach your audience right away.
Music
Getting your music and voice sounding at the right volume will take some practice.
I broadcast using an iphone 11 and position the phone on a small stand
and play music through itunes on a Mac book Air by the side of the phone.
I am currently trialling new mics and mixers for a better experience so do keep watching my LIVES this weekend for updates.
I broadcast daily on my Facebook.com/RachelHolmesFit page.
Music Recommendations
New Pure Energy GO Cardio House and Pure Energy Pro Beats.
Lightning.
Using the flip setting ensuring you teach mirror image and click the lightning bolt icon to lighten up the picture.
Cons
You cannot see your audience only comments.
Hope this helps!
Stay Positive
Love Rachel xxxx
SOCIAL MEDIA FITPRO IMMERSION WORKSHOP
Join me on TONIGHT as I go deep into Facebook, Instagram, Youtube and Linked in showing you exactly how to utilise these social media platforms for your Online Fitness Programmes.
If you have got your online programmes going, I'll be discussing how to keep up the momentum and attract new clients and build your business ready for when we come out of this the other side.
Monday 30th March 2020
Time 8:30pm – 10:30pm
50 Places On The Webinar.
All the very the latest Facebook, Instagram, Whats App, Youtube & Linkedin Updates.
✅How to film better quality workouts, technique videos, tutorials,
✅How To Use Video, How to Make Videos, How To Edit Videos, How To Use apps,
✅Getting more clients, followers and fans into your ecosystem.
✅Content marketing
✅Social media ALL PLATFORMS
✅Sex up your product, programme, service & offer CREATE AN ELECTRIC PROGRAMME that people want to join.
✅How To Launch Quickly In Hours.
✅Create assets on ALL platforms
✅Video marketing & lives (YT, FB, LI)
✅Basic tech, systems, software
✅ADD MORE VALUE & Fair Exchange
Cost £47 
click below to book.
This will be non stop action packed!
Lets GO!!!!
---