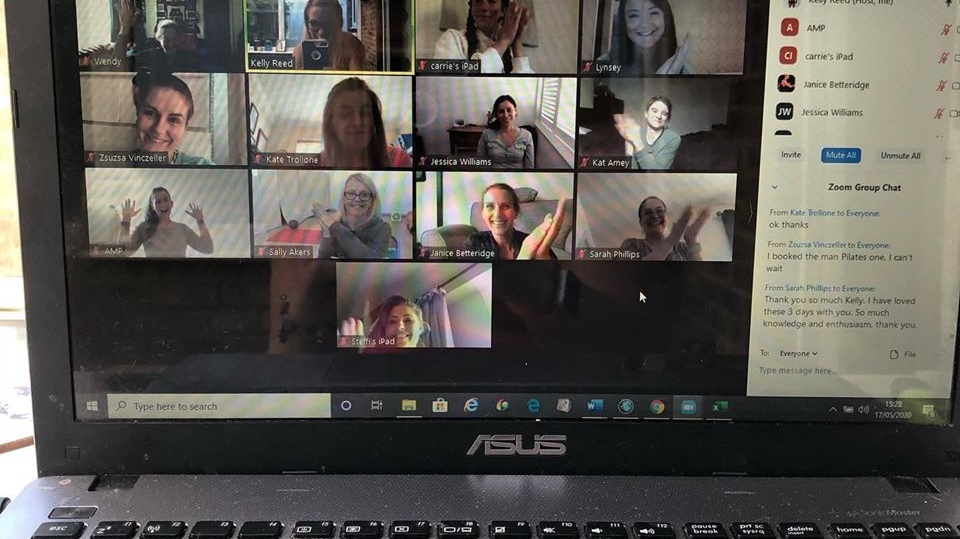 Fitness Pilates Newsletter Monday 18th May 
Good Morning  How are you?
Another week full of changes and updates as Personal Trainers are now able to train (at a distance) in the open air. This has sparked a lot of heated debate on social media, with many PTs desperate to start earning again doing LIVE sessions and many clients desperate to get back to LIVE training the issue is complex and we will see how this all plays out in the fullness of time.
FP sessions on ZOOM and Facebook LIVE are going so well. This "acceleration" of the Fitness Pilates brand is allowing us to see huge progress with our clients as they take part in multiple sessions per week and showing increased commitment with a wide range of FP styles aimed at different niches.
**TECH TIPS**
Do you want to up your production – audio and visual this week?
*To get the best from Facebook download the new Chrome Beta Browser and stream from the Creator Studio or use the Firefox browser as there have been many problems this week with Chrome and the update.
*For a good quality mic and mix for ZOOM and FB contact Stuart at Sound Dynamics for the best set up.
*Create a FREE Live content plan on your social media of 15-minute bite-sized content to attract new clients.  Aim to go live daily with a mini FP encouraging followers to join your group or subscription.
*Niche classes are doing great online – Kids, Pregnancy, Older Adults, FP for Men -Why not organise a special masterclass.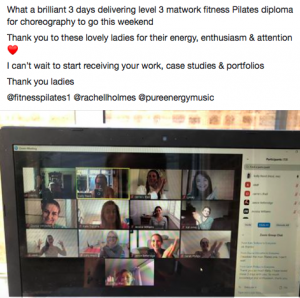 WELCOME to our new Level 3 Pilates Instructors from the weekends training
'What a brilliant 3 days delivering level 3 matwork diploma for choreography to go this weekend
Thank you to these lovely ladies for their energy, enthusiasm & attention ❤️
I can't wait to start receiving your work, case studies & portfolios
I hope you are getting on OK please whats app if you need any help from me but for all admin please contact my assistant Lauren@KSFLGroup.com or postin the Fitness Pilates Teachers FACEBOOK Group.
Much LOVE
Rachel 0797626867
Need help with Instagram?
Instagram Full Immersion Deep Dive Workshop For Fitpros Wednesday 830 – 10pm on ZOOM  CLICK HERE TO BOOK
FRIDAY 22nd May Advanced Fitness Pilates FREE Training Workshop to accompany the Pregnancy Fitness Pilates Online Course – Would you like to do the LIVE TRAINING on Friday then book the course today
*Zoom details will be forwarded soon*
Get Training for LEVEL 3 PILATES Online via ZOOM Places are limited on the JUNE dates click here to book
Venue: Virtual Online
Active IQ Level 3 Diploma in Pilates with Rachel Holmes and Kelly Reed-Banks
Fitness Pilates Training Course
ONLINE 27/28 June on ZOOM
£270.00  CLICK HERE TO BOOK
10am – 4pm
Join Rachel and Kelly for the online Fitness Pilates Virtual Training Course.
ONLINE – You will need an internet connection, Facebook and download ZOOM.us
Fitness Pilates is recognised by CIMSPA, Fitpro
---