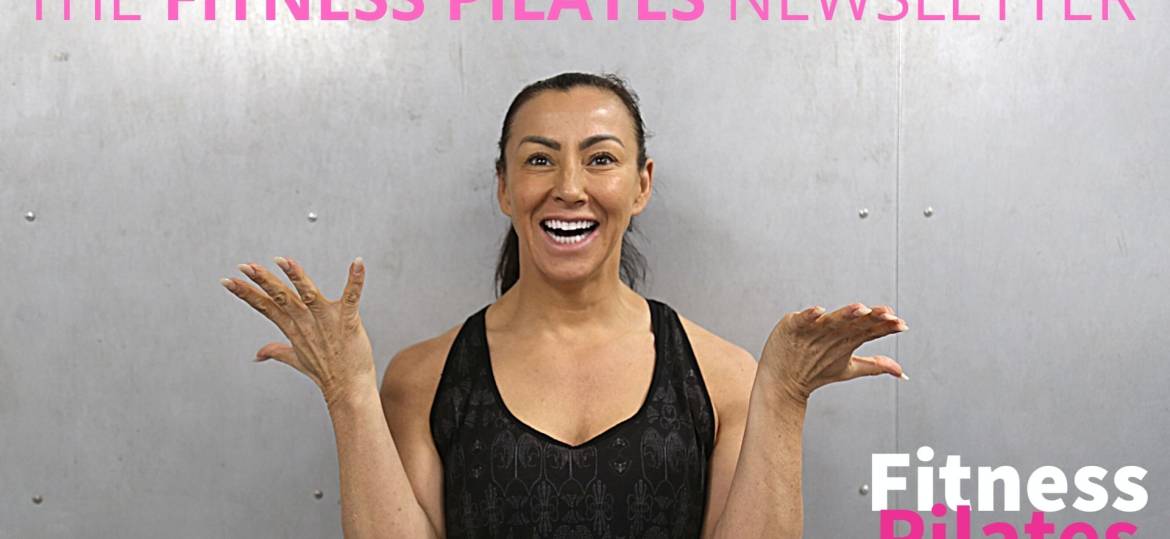 GOOD Morning  
It is Menopause awareness month and I'll be live on my Facebook page every day this week with Midlife inspired workouts and Fitness Pilates express ideas PLUS there is an action packed week of masterclasses and trainings.
Kelly will be presenting a new deep dive on Thursday about Golfers and Tennis Elbow and I'll be doing a new Fitness Pilates Warm Up Masterclass on Wednesday 130
Do you need some help with your business planning and how to get new customers this week?
Join me at 9am for a Business Briefing live in the RH App, Download the app, create an account and verify your account click the Fitpro Business Growth section and I'll see you there at 9am there are also lots of Fitness Pilates Express classes on the app as well.
For FPVIP Members
Month 31 is up so as soon your subscription drops you will see it on your Dashboard.
Video 1: Fitness Pilates Kettlebells
Video 2: Flex, Brainfit and Fitness Pilates
Video 3:Mind Body FP Inspired HIIT
Video 4: FP VIP Exclusive Seated Ideas for all ages
Video 5: Fitness Pilates Activation Band
Has your FPVIP membership lapsed and do you want to jump back in Click here You will get full access to where you paused, cancelled or lapsed.
Have a great week
Best Wishes
Rachel xxx
Month 1  VIP 
Video 1: Warm Up Ideas And Mindfulness In Fitness Pilates
Video 2: Standing Balance For Older Adults
Video 3: Wrist Mobility & Strength
Video 4: Seated Flow Sequence
Video 5: Hip Mobility For All In FP
——————————————-
Month 2 VIP
Video 1: Posterior Chain Warm Up
Video 2 Lumbo pelvic exercises for stiff lower backs
Video 3 Floor Work Flow – Side Lying, Swan, Neck Pull
Video 4: Hip Openers & Extended Bridging.
Video 5: Simple Box Breathing For Stress Reduction.
—————————————————————————–
Month 3 VIP
Video 1: Glute Activation with the Mini Ball
Video 2: Foundational Flow Sequence 1
Video 3: Foundational Flow Sequence 2
Video 4: Foundational Flow sequence 3
Video 5: Standing Ideas with the Mini Ball
BONUS: Full Body Strength Activation Workout
BONUS: Full Body Fitness Pilates EMOM With Bands
————————————-
Month 4 VIP
Video 1: Happy Feet and Happy Hand with the Spiky Ball
Video 2: Ab Curl Prep and Side Lying Moves with the Mini Ball
Video 3: Mini Ball Warm Ups and Activations
Video 4: Advanced Mat Challenge
Video 5: Dynamic Fitness Pilates Workshop
—————————–
Month 5 VIP
Video 1: Warm up Dynamic Flow
Video 2:  Standing Fitness Pilates With Weights
Video 3: Fitness Pilates Mat with Light Weights
Video 4:  Fitness Pilates Activation Band WS, Prone Side Lying
Video 5: Fitness Pilates Focus Exercises for Adductors
Video 6: Fitness Pilates Mini Flow For Beginners
PLUS Bonus videos
—————————————-
Month 6 VIP
Video 1: Dynamic and active Warm Up Ideas
Video 2: Active and Dynamic Standing Sequences
Video 3: Active and Dynamic Transition Sequences
Video 4: Active and Dynamic Floorwork Flow
Video 5 – 12:  How To Create a Fitness Pilates Healthy Backs and Better Posture 6 week Progressive Course including step by step video ideas
—————————————-
FP VIP Month 7
Month 7 Continues with over 26 videos taking you from week 4 to week 8 in Healthy Backs and Better Posture With Fitness Pilates course.
There is a lot of amazing content here and shows you exactly how to create and what to deliver in a Fitness Pilates For Healthy Backs Course.
Video 1 Fitness Pilates Flow With Kelly 20 minutes
Video 2 – 26 Week 4 to Week 8 Of Step By Step Healthy Backs and Improve Your Posture Course.
———————————-
FP VIP Month 8
Video 1 Back To Basics With Kelly
Video 2 FP Dyna Bands With kelly
Video 3 FP FP Mini Ball with Kelly
Video 4 FP Sequences With Rachel
Video 5 FP Foan Roller With Rachel
———————————————
Month 9 VIP
Video 1 Infinity Band Mini Workshop
Video 2 Standing Barre Ball Combination
Video 3 Simple Activation Band Warm Up
Video 4 Fitness Pilates Activation Band Full Workout
Video 5 Fitness Pilates Basic Posture Assessment
Video 6 Fitness Pilates Activation Band Basic Supine
——————————————–
Month 10 VIP
Video 1 Fitness Pilates Activation Band Deep Activation
Video 2 Fitness Pilates Seated, Prone and Side Lying
Video 3 Organic Abdominals with Kelly
Video 4 Advanced Sequences Live Workshop with Kelly
Video 5 Hip and Shoulder Live Sequences with Kelly
Video 6 Standing Core with Kelly
Video 7 How to Create a Back Care Course
Video 8 In Depth Posture Analysis
Video 9 BONUS
———————————————
Month 11 VIP
Video 1 Warm up with Band
Video 2 Banded Barless Barre
Video 3 Banded Transitions Standing to all Fours and Prone Yin and Yogalates Inspired
Video 4 Banded all core Connection
Video 5 Fun Ideas for Advanced Clients
Video 6 Bonus
Video 7 4 Flows
Video 8 Mini Ball and Spiky Ball Ideas
Video 9 Mat Ideas with Activation Band
Video 10 Sequence with Kelly
————————————————
MONTH 12
COVID CHAT
VIDEO 1 SEQUENCE WITH KELLY
VIDEO 2 SUNSHINE WARM UP
VIDEO 3 STANDING WITH MINI BALL
VIDEO 4 HOME STANDING OTS WORKOUT
VIDEO 5 HOME FLOOR OTS WORKOUT
VIDEO 6 HOME BAND OTS WORKOUT
VIDEO 7 FITNESS PILATES LIFESTYLE 15 MINUTE WORKOUT POSTERIOR CHAIN STRENGTHENING
VIDEO 8 FITNESS PILATES FOR STIFF, TIGHT AND TENSE SHOULDERS
———————————————-
MONTH 13
VIDEO 1 ACTIVATION BAND FP LIVE
VIDEO 2 SEATED STRENGTH AND FITNESS
VIDEO 3 FITNESS PILATES MINI BALL
VIDEO 4 LIVE FLOORWORK FP
MONTH 14
VIDEO 1 FITNESS PILATES PRECISION CONDITIONING
VIDEO 2 PILATES MINI BALL
VIDEO 3 FITNESS PILATES INTERVAL HIIT
VIDEO 4 FITNESS PILATES INTERVALS 2 WITH BANDS AND BALLS
VIDEO 5 FITNESS PILATES FLOW AND MEDITATION
—————————————————-
MONTH 15
VIDEO 1 SUMMER SOLSTICE MASH UP MEDLEY
VIDEO 2 FITNESS PILATES EXPRESS
VIDEO 3 FITNESS PILATES POSTERIOR CHAIN AND POSTURE
VIDEO 4 MINI BALL MASTERCLASS
—————————————————–
MONTH 16
VIDEO 1 GENERAL FITNESS PILATES MINDSET AND FOCUS
VIDEO 2  EVENING FITNESS PILATES EXPRESS CHILL OUT
VIDEO 3 SPIKY BALLS AND MINI FOAM ROLLER MASH UP
VIDEO 4 MINI BALL MASTERCLASS
MONTH 17
VIDEO 1 FOAM ROLLER AND SPIKY BALL CONDITIONING
VIDEO 2 FITNESS PILATES WITH WEIGHTS
VIDEO 3 FITNESS PILATES KETTLEBELL FUSION
VIDEO 4 FITNESS PILATES LBT
———————————————
Month 18 VIP
VIDEO 1 Fitness Pilates Abs
VIDEO 2 Activation Band Glute Training
VIDEO 3 Brainfit and Meditation
VIDEO 4 Yoga block focus
VIDEO 5 Cardio Barre
———————————————-
Month 19 VIP
VIDEO 1 FP Flow and Ideas
VIDEO 2 Advanced Fitness Pilates
VIDEO 3 Fitness Pilates Power Intervals
VIDEO 4 Fitness Pilates Foot and Ankle
VIDEO 5 Power Abs
———————————————-
Month 20 VIP
VIDEO 1 Advanced Fitness Pilates 2
VIDEO 2 Max the mat mini ball
VIDEO 3 Fitness Pilates Express Advanced
VIDEO 4 Fitness Pilates Max the Mat 1
———————————–
Month 21 VIP
VIDEO 1 Athletic Fitness Pilates 3
VIDEO 2 Mind Body PHIIT
VIDEO 3 Barefoot Conditioning 1 weight
VIDEO 4 Max the Mat Advanced Flow
—————————————
Month 22 VIP
VIDEO 1 Fitness Pilates for better bones
VIDEO 2 Mini Ball Supersculpt
VIDEO 3 Stability Ball Supersculpt
VIDEO 4 Brainfit 2021
————————————————-
Month 23 VIP
VIDEO 1 Sunday Stretch
VIDEO 2 Mini ball toning
VIDEO 3 Power Fitness Pilates
VIDEO 4 Brainfit FP Fusion Class
Month 24 VIP
VIDEO 1 Fitness Pilates Core Workshop
VIDEO 2 Outdoor Fitness Pilates Workshop
VIDEO 3 Functional Fascia
VIDEO 4 Fitness Pilates Blast
——————————————————
Month 25 VIP
VIDEO 1 Functional Fitness Pilates for Active Seniors
VIDEO 2 Fitness Pilates Killer Core
VIDEO 3 Fitness Pilates Spine, Hips and Shoulders
VIDEO 4 Fitness Pilates Interval Megamix
—————————————————-
Month 26 VIP
VIDEO 1 Fitness Pilates Magic Circle
VIDEO 2 Fitness Pilates warm up ideas 2
VIDEO 3 Fitness Pilates Warm Up Ideas 1
VIDEO 4 Mindful Interval Conditioning
—————————————————————-
Month 27 VIP
VIDEO 1 All the Balls Conditioning
VIDEO 2 Brainfit Breathwork and Light Stretch
VIDEO 3 Fitness Pilates Magic circle 2
VIDEO 4 Fitness Pilates for Golf
—————————————————-
Month 28 VIP
VIDEO 1 Fitness Pilates Summer Solstice 2021
VIDEO 2 Fitness Pilates Barre and Balance Masterclass
VIDEO 3 Fitness Pilates Stability Ball
VIDEO 4 Fitness Pilates Max the Mat
————————————————-
Month 29 VIP
VIDEO 1 Fitness Pilates Athletic
VIDEO 2 Fitness Pilates Power Intervals
VIDEO 3 Advanced Fitness Pilates
—————————————————-
Month 30 VIP
VIDEO 1 Fitness Pilates Pelvic Floor and Prolapse
VIDEO 2 Fitness Pilates Refresher
VIDEO 3 Tranquility and Mobility
VIDEO 4 Fitness Pilates / Flex / Brainfit  Power Fusion Masterclass
VIDEO 5 Fitness Pilates Post Covid
———————————————————-
Month 31 VIP
Video 1: Fitness Pilates Kettlebells
Video 2: Flex, Brainfit and Fitness Pilates
Video 3:Mind Body FP Inspired HIIT
Video 4: FP VIP Exclusive Seated Ideas for all ages
Video 5: Fitness Pilates Activation Band
---