12 Tips to be a Successful Pilates Instructor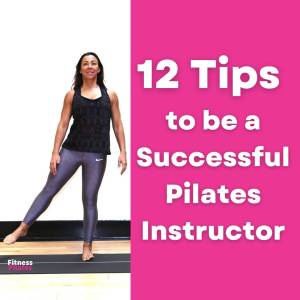 So you are passionate about pilates and delivering high quality classes? Here are our top tips to becoming a successful pilates instructor:
Be clear, concise and structured with your instructions. You will have all different levels attending your classes from beginners to advanced so ensure you are making your classes inclusive and clear for all.
Always have a class planned! Planning is key to make sure the class runs smoothly.
Ensure the class flows smoothly.
Pick amazing music, we use license free Pure Energy Music. Use code RH10 at Checkout for a special discount
Create an atmosphere- use candles if you like, ensure you choose a quiet venue where you can control the lighting for meditation sessions and relaxing classes.
Cover all muscle groups and include equipment such as mini balls to keep classes exciting.
Address corrections to the class and offer progressions and alternatives.
Bring your personality into your class! Be friendly and welcoming and let your personality shine.
Get feedback- feedback is so important so you know what your customers want!
Set up your brand– Make your brand message clear, pick logos, colours and create eye catching marketing materials. Make yourself known online and in the local area.
Set your pricing fairly, compare with other local instructors to ensure you aren't pricing yourself too low or high.
ALWAYS keep learning, you are the professional and need to keep updated with trends and new training and updates to deliver the best classes to your clients. Whether that be watching youtube videos, going to other peoples classes or attending live or online training courses.
We hope you found this blog helpful today, share your tips in the comments!
Join the Fitness Pilates Instructor Newsletter Click here 
Join The Fitness Pilates VIP club click here
Join The Rachel Holmes Supporters for business training click here
---