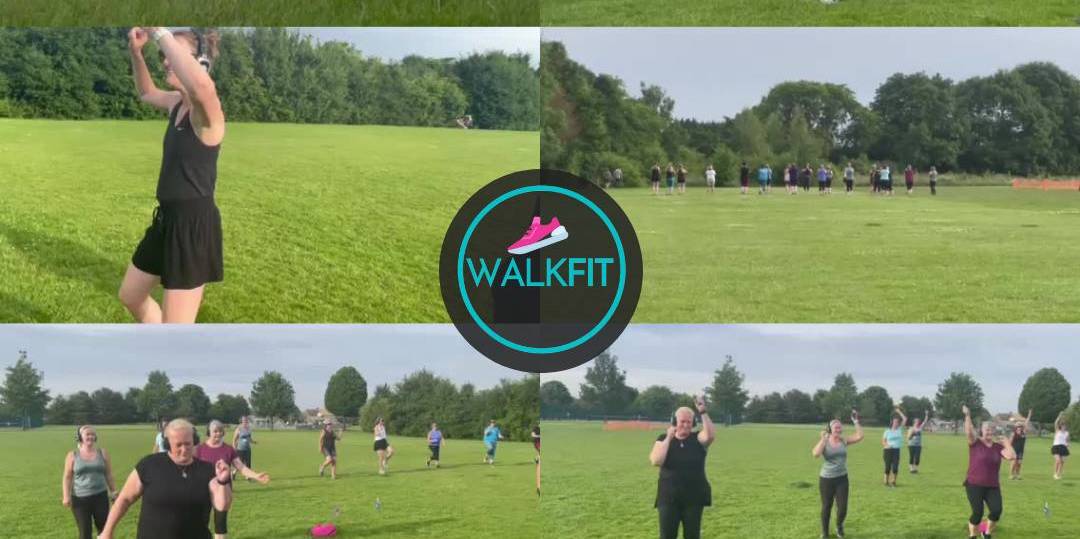 Silent Walkfit™️ Disco launches with great success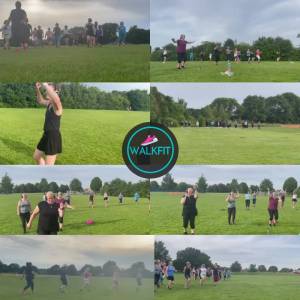 Featured blog from Monika Yarnell Personal Trainer Aylesbury, UK.
"After competing Rachel's online Walkfit™️ programme, I wasn't sure how the silent disco would be received by my participants – I needn't have worried!
I was super excited the night before, prepping the equipment and creating a playlist I felt everybody would love. You can't go wrong with ABBA, Queen, Madonna's Vogue, and all the classics  everybody loves to sing and dance to.
Once we all had our headphones on, I flicked the mic into action and hit 'play'. I always knew I wanted my opening song to be Club Tropicana by Wham. I'd pictured us starting our warm up to the 'click click' of the high heels in the intro to the song. As soon as they recognised it,  participants were immersed in the Wham experience – hands were waving in the air, hips were wiggling and smiles were widening!
The warm up was followed by some on the spot work in the park before we began moving around , causing people to look and point at the crazy, singing bunch waving their hands in the air!
I incorporated intervals, agility, speed work, friendly race challenges and much more – having that much fun is exhausting, the DOMS were real!
The close of the session was greeted with groans, nobody wanted it to end – in fact we just carried on singing in the car park to Robbie Williams' Let me entertain you . It was a case of 'just one more, just one more song'!
I'm looking forward to the next session and planning more fun things to do. Walkfit™️ did not feel like exercise. It felt like fun in the sun, connecting with friends through the music and really enjoying the moment together. The statistics said it all though, step counts and calorie burn was high as was the mood!
www.jonikafitness.com (follow me on Facebook, Instagram, Tik Tok)
WALKFIT™️ WHAT'S IT ALL ABOUT?
🧡Walkfit is a 45 minute fitness session, suitable for all abilities. We know the daily recommendation is 10,00 steps, but are you achieving this? It's not easy!
🖤 If you are just beginning your fitness journey and aren't sure where to begin, this is for you!
🧡If you'd like to reach your daily step count but would rather not go out walking alone, this is for you!
🖤 If you are already fit but would like to try a different exercise format, this is for you!
🧡The benefits of walking are vast, not just physically but also for your emotional well-being. Being outside in the fresh air enjoying music and exercising with others will enhance your mood.
🖤This class will leave you feeling exhilarated and wanting more. Based on marching/walking see how many steps or how much distance you gain in this time. Elelvate your heart rate, feel good, feel happy!
🧡Put your headphones on, enjoy the music, sing along as loudly as you like, it won't even feel like exercise!
Join Monika on her next class IN BEDGROVE PARK, MONDAY 4TH JULY 6.30PM!"
A massive well done to Monika this class looks fantastic, thanks for sharing your class with us!
—————————————–
Find out all about our Walkfit™️ Instructor training course CLICK HERE
What is Walkfit™️?
For beginners and those wanting to get into fitness.
Fun and upbeat classes.
Low impact workout.
Get at least 2,000 steps in just a 15 minute class.
Easy choreography.
A flexible class that can be taught anywhere.
Try a Walkfit masterclass HERE to see what it is all about
Join the Walkfit Workshop Thursday 30th June
---