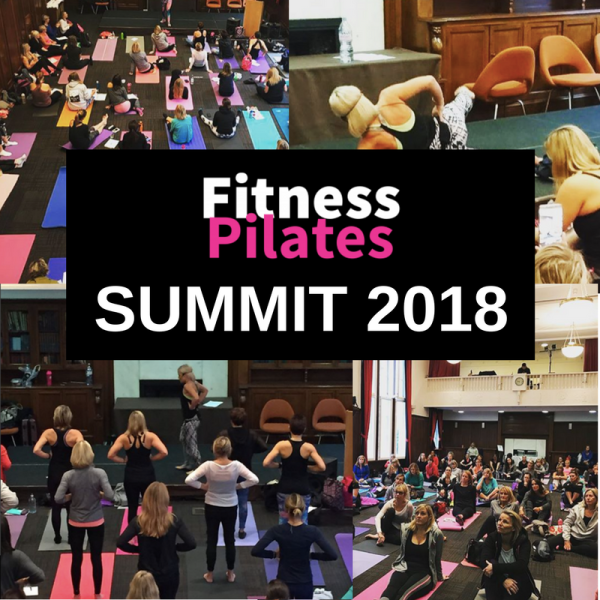 Fitness Pilates Summit 2018
The SUMMIT IS NOW SOLD OUT 
NEXT SUMMIT IS NOVEMBER 2019 Central London
Compare
The SUMMIT IS NOW SOLD OUT 
NEXT SUMMIT IS NOVEMBER 2019 Central London
Join us for the next Fitness Pilates Summit event in London  Sunday 4th November 2018
Please see the Agenda for the day:
• 8:30am – 8:45am Welcome
• 8:45am – 9:45am Active Mobility Warm Up Ideas – Rachel  Holmes
Rachel explores active mobility exercises to create functional warm up ideas that are class specific and truly prepare our clients for the class to follow and life in general!
*Shoulder mobility
*Lumbo pelvic area mobility work.
*Low back tweaks
*Mobility for tight ankles
*Foot awareness.
• 9:45am – 10:30am  Fitness Pilates Glute Activation and The Posterior Chain – Rachel Holmes 
Strengthening the glutes and focusing on the posterior chain is an integral part of FP. Rachel goes through a myriad of Standing, Kneeling, Floor based exercises that you are able to implement right away into your sessions. simple exercise that make a big impact on our client's posture, balance and strength.
• 10:30am – 10:45am
Mini Break
• 10:45am – 11:45am  Fitness Pilates Fascial Release – Kelly 
A fascinating session on muscle stimulation techniques that can be applied in your group FP class.
• 11:45am – 12:45pm Fitness Pilates For Older Adults UPDATES – Kelly
FP For Older Adults is our most requested topic and Kelly will be updating you with a whole host of new exercises for standing and seated for your older and less able clients.
•12:45pm – 1:45pm LUNCH
• 1:45pm – 2:45pm Fitness Pilates Men On Mats Revamped – Rachel
Rachel pioneered the Men On Mats concept many years ago and the growth of men coming into the Pilates classes is on the increase with men only classes popping up all over the UK.
If you teach Pilates exclusively to men or would like to OR if you want to attract more men into your regular FP classes this workshop is for you.
Rachel will be identifying common weak and tight areas of the kinetic chain and sharing the best ways to address these in your class PLUS how to market this type of class.
• 2:45pm – 3:45pm – Posture Correction Kelly
Kelly shares corrective exercises for common postural imbalances that so many people and cause pain and discomfort.
Identify which muscles need strengthening and which muscles need lengthening.
Using Fitness Pilates exercises we can balance & realign the body to move better. Kelly teaches you what to look out for as your clients move and how you can help individuals in your session.
• 4:00pm – 5:00pm Fitness Pilates Classes For The  Masses Masterclass Rachel and Kelly
The ultimate FP class designed for the regular person who wants to attend an FP class once a week, improve posture, address back pain, improve joint mobility, increase flexibility and movement quality
AND have fun in a relaxed and safe environment.
Rachel and Kelly have designed the ultimate FP class using  bands, mini balls, mini bands and spiky balls.
This is not your typical Pilates class. Experience new formats, new exercises, new drills that you can take right away and use in your FP Classes for the masses.
We look forward to welcoming you for a fantastic jam packed day!