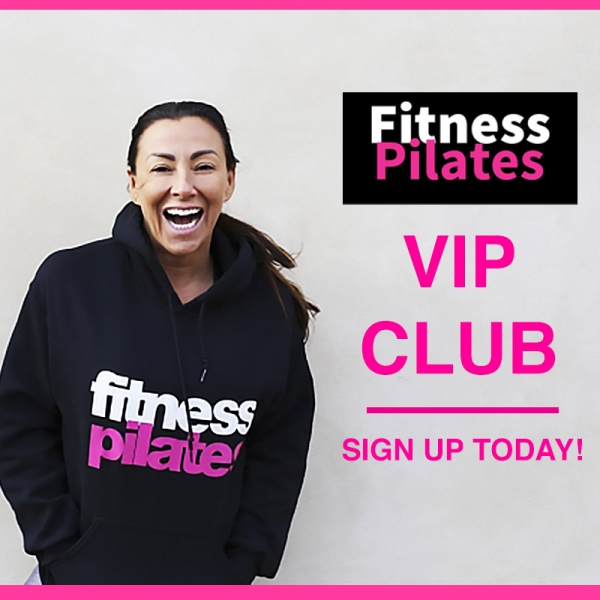 Fitness Pilates VIP 7 Day Access
Join my FPVIP club for 7 days and see all of the amazing content for only £7.
At the end of the trial you can choose to become a member.
You get access right away to all of this:
Video 1: Warm Up Ideas And Mindfulness In Fitness Pilates
Video 2: Standing Balance For Older Adults
Video 3: Wrist Mobility & Strength
Video 4: Seated Flow Sequence
Video 5: Hip Mobility For All In FP
Video 1: Posterior Chain Warm Up
Video 2 Lumbo pelvic exercises for stiff lower backs
Video 3 Floor Work Flow – Side Lying, Swan, Neck Pull
Video 4: Hip Openers & Extended Bridging.
Video 5: Simple Box Breathing For Stress Reduction.
—————————————————————————–
Month 3 VIP
Video 1: Glute Activation with the Mini Ball
Video 2: Foundational Flow Sequence 1
Video 3: Foundational Flow Sequence 2
Video 4: Foundational Flow sequence 3
Video 5: Standing Ideas with the Mini Ball
BONUS: Full Body Strength Activation Workout
BONUS: Full Body Fitness Pilates EMOM With Bands
————————————-
Month 4 VIP
Video 1: Happy Feet and Happy Hand with the Spiky Ball
Video 2: Ab Curl Prep and Side Lying Moves with the Mini Ball
Video 3: Mini Ball Warm Ups and Activations
Video 4: Advanced Mat Challenge
Video 5: Dynamic Fitness Pilates Workshop
—————————–
Month 5 VIP
Video 1: Warm up Dynamic Flow
Video 2:  Standing Fitness Pilates With Weights
Video 3: Fitness Pilates Mat with Light Weights
Video 4:  Fitness Pilates Activation Band WS, Prone Side Lying
Video 5: Fitness Pilates Focus Exercises for Adductors
Video 6: Fitness Pilates Mini Flow For Beginners
PLUS Bonus videos
—————————————-
Month 6 VIP
Video 1: Dynamic and active Warm Up Ideas
Video 2: Active and Dynamic Standing Sequences
Video 3: Active and Dynamic Transition Sequences
Video 4: Active and Dynamic Floorwork Flow
Video 5 – 12:  How To Create a Fitness Pilates Healthy Backs and Better Posture 6 week Progressive Course including step by step video ideas
—————————————-
FP VIP Month 7
Month 7 Continues with over 26 videos taking you from week 4 to week 8 in Healthy Backs and Better Posture With Fitness Pilates course.
There is a lot of amazing content here and shows you exactly how to create and what to deliver in a Fitness Pilates For Healthy Backs Course.
Video 1 Fitness Pilates Flow With Kelly 20 minutes
Video 2 – 26 Week 4 to Week 8 Of Step By Step Healthy Backs and Improve Your Posture Course.
———————————-
FP VIP Month 8
Video 1 Back To Basics With Kelly
Video 2 FP Dyna Bands With kelly
Video 3 FP FP Mini Ball with Kelly
Video 4 FP Sequences With Rachel
Video 5 FP Foan Roller With Rachel
———————————————
Month 9 VIP
Video 1 Infinity Band Mini Workshop
Video 2 Standing Barre Ball Combination
Video 3 Simple Activation Band Warm Up
Video 4 Fitness Pilates Activation Band Full Workout
Video 5 Fitness Pilates Basic Posture Assessment
Video 6 Fitness Pilates Activation Band Basic Supine
——————————————–
Month 10 VIP
Video 1 Fitness Pilates Activation Band Deep Activation
Video 2 Fitness Pilates Seated, Prone and Side Lying
Video 3 Organic Abdominals with Kelly
Video 4 Advanced Sequences Live Workshop with Kelly
Video 5 Hip and Shoulder Live Sequences with Kelly
Video 6 Standing Core with Kelly
Video 7 How to Create a Back Care Course
Video 8 In Depth Posture Analysis
Video 9 BONUS
———————————————
Month 11 VIP
Video 1 Warm up with Band
Video 2 Banded Barless Barre
Video 3 Banded Transitions Standing to all Fours and Prone Yin and Yogalates Inspired
Video 4 Banded all core Connection
Video 5 Fun Ideas for Advanced Clients
Video 6 Bonus
Video 7 4 Flows
Video 8 Mini Ball and Spiky Ball Ideas
Video 9 Mat Ideas with Activation Band
Video 10 Sequence with Kelly
————————————————
MONTH 12
COVID CHAT
VIDEO 1 SEQUENCE WITH KELLY
VIDEO 2 SUNSHINE WARM UP
VIDEO 3 STANDING WITH MINI BALL
VIDEO 4 HOME STANDING OTS WORKOUT
VIDEO 5 HOME FLOOR OTS WORKOUT
VIDEO 6 HOME BAND OTS WORKOUT
VIDEO 7 FITNESS PILATES LIFESTYLE 15 MINUTE WORKOUT POSTERIOR CHAIN STRENGTHENING
VIDEO 8 FITNESS PILATES FOR STIFF, TIGHT AND TENSE SHOULDERS
———————————————-
MONTH 13
VIDEO 1 ACTIVATION BAND FP LIVE
VIDEO 2 SEATED STRENGTH AND FITNESS
VIDEO 3 FITNESS PILATES MINI BALL
VIDEO 4 LIVE FLOORWORK FP
---
MONTH 14
VIDEO 1 FITNESS PILATES PRECISION CONDITIONING
VIDEO 2 PILATES MINI BALL
VIDEO 3 FITNESS PILATES INTERVAL HIIT
VIDEO 4 FITNESS PILATES INTERVALS 2 WITH BANDS AND BALLS
VIDEO 5 FITNESS PILATES FLOW AND MEDITATION
—————————————————-
MONTH 15
VIDEO 1 SUMMER SOLSTICE MASH UP MEDLEY
VIDEO 2 FITNESS PILATES EXPRESS
VIDEO 3 FITNESS PILATES POSTERIOR CHAIN AND POSTURE
VIDEO 4 MINI BALL MASTERCLASS
—————————————————–
MONTH 16
VIDEO 1 GENERAL FITNESS PILATES MINDSET AND FOCUS
VIDEO 2  EVENING FITNESS PILATES EXPRESS CHILL OUT
VIDEO 3 SPIKY BALLS AND MINI FOAM ROLLER MASH UP
VIDEO 4 MINI BALL MASTERCLASS
---
MONTH 17
VIDEO 1 FOAM ROLLER AND SPIKY BALL CONDITIONING
VIDEO 2 FITNESS PILATES WITH WEIGHTS
VIDEO 3 FITNESS PILATES KETTLEBELL FUSION
VIDEO 4 FITNESS PILATES LBT
———————————————
Month 18 VIP
VIDEO 1 Fitness Pilates Abs
VIDEO 2 Activation Band Glute Training
VIDEO 3 Brainfit and Meditation
VIDEO 4 Yoga block focus
VIDEO 5 Cardio Barre
———————————————-
Month 19 VIP
VIDEO 1 FP Flow and Ideas
VIDEO 2 Advanced Fitness Pilates
VIDEO 3 Fitness Pilates Power Intervals
VIDEO 4 Fitness Pilates Foot and Ankle
VIDEO 5 Power Abs
———————————————-
Month 20 VIP
VIDEO 1 Advanced Fitness Pilates 2
VIDEO 2 Max the mat mini ball
VIDEO 3 Fitness Pilates Express Advanced
VIDEO 4 Fitness Pilates Max the Mat 1
———————————–
Month 21 VIP
VIDEO 1 Athletic Fitness Pilates 3
VIDEO 2 Mind Body PHIIT
VIDEO 3 Barefoot Conditioning 1 weight
VIDEO 4 Max the Mat Advanced Flow
—————————————
Month 22 VIP
VIDEO 1 Fitness Pilates for better bones
VIDEO 2 Mini Ball Supersculpt
VIDEO 3 Stability Ball Supersculpt
VIDEO 4 Brainfit 2021
————————————————-
Month 23 VIP
VIDEO 1 Sunday Stretch
VIDEO 2 Mini ball toning
VIDEO 3 Power Fitness Pilates
VIDEO 4 Brainfit FP Fusion Class
---
Month 24 VIP
VIDEO 1 Fitness Pilates Core Workshop
VIDEO 2 Outdoor Fitness Pilates Workshop
VIDEO 3 Functional Fascia
VIDEO 4 Fitness Pilates Blast
——————————————————
Month 25 VIP
VIDEO 1 Functional Fitness Pilates for Active Seniors
VIDEO 2 Fitness Pilates Killer Core
VIDEO 3 Fitness Pilates Spine, Hips and Shoulders
VIDEO 4 Fitness Pilates Interval Megamix
—————————————————-
Month 26 VIP
VIDEO 1 Fitness Pilates Magic Circle
VIDEO 2 Fitness Pilates warm up ideas 2
VIDEO 3 Fitness Pilates Warm Up Ideas 1
VIDEO 4 Mindful Interval Conditioning
—————————————————————-
Month 27 VIP
VIDEO 1 All the Balls Conditioning
VIDEO 2 Brainfit Breathwork and Light Stretch
VIDEO 3 Fitness Pilates Magic circle 2
VIDEO 4 Fitness Pilates for Golf
—————————————————-
Month 28 VIP
VIDEO 1 Fitness Pilates Summer Solstice 2021
VIDEO 2 Fitness Pilates Barre and Balance Masterclass
VIDEO 3 Fitness Pilates Stability Ball
VIDEO 4 Fitness Pilates Max the Mat
————————————————-
Month 29 VIP
VIDEO 1 Fitness Pilates Athletic
VIDEO 2 Fitness Pilates Power Intervals
VIDEO 3 Advanced Fitness Pilates
—————————————————-
Month 30 VIP
VIDEO 1 Fitness Pilates Pelvic Floor and Prolapse
VIDEO 2 Fitness Pilates Refresher
VIDEO 3 Tranquility and Mobility
VIDEO 4 Fitness Pilates / Flex / Brainfit  Power Fusion Masterclass
VIDEO 5 Fitness Pilates Post Covid
———————————————————-
Month 31 VIP
Video 1: Fitness Pilates Kettlebells
Video 2: Flex, Brainfit and Fitness Pilates
Video 3:Mind Body FP Inspired HIIT
Video 4: FP VIP Exclusive Seated Ideas for all ages
Video 5: Fitness Pilates Activation Band
Month 32 VIP
Video 1: Warm up ideas
Video 2: Fitness Pilates express flow 1 body weight
Video 3: Fitness Pilates Express flow 2 Activation Band
Video 4: Fitness Pilates express magic circle
———————————————————————
Month 33 VIP
Video 1: Fitness Pilates to strengthen the pelvic floor
Video 2: Fitness Pilates for pelvic pain and tension
Video 3: Fitness Pilates for better bones
————————————————————–
Month 34
Video 1: Candlelight stretch and breathing
Video 2: FP for menopause course
Video 3: Candlelight FP 2
Video 4: Fitness Pilates Menopause Women Health Neck & Shoulder Pain
---
Month 35 VIP
Video 1: How to create a Fitness Pilates Membership
Video 2: Barre basic Fitness Pilates class
4 Health Talks To Incorporate Into Fitness Pilates Health Coaching including: Sleep, Hormones Routines and Nutrition
Video 7: Fitness Pilates mobility workout
Video 8: Fitness Pilates max the mat equipment free 2022
———————————————————-
Month 36 VIP
Video 1: Fitness Pilates with the stability ball
Video 2: Functional Fitness Pilates
Video 3: Power HIIT Fitness Pilates
Video 4: Fitness Pilates power and strength
—————————————————————————————-
Month 37 VIP
Video 1 Functional Fitness Pilates Pelvic Floor
Video 2 Fitness Pilates 1 weight fusion
Video 3 Barefoot power, mobility and strength
Video 4 Brainfit Breath
————————————————
Month 38 VIP
Video 1- Fitness Pilates Knee Friendly no forward flexion
Video 2- Fitness Pilates triple challenge
Video 3- Fitness Pilates for bad knees
Video 4- Mini ball mobility moves
————————————————
Month 39 VIP
Video 1 FP Barre Ball and Balance
Video 2 Functional FP for lower back mobility and strength
Video 3 Fitness Pilates and conditioning Fusion
Video 4 Sunrise FP strength and mobility
———————————————–
Month 40 VIP SPECIAL
Video 1: Fitness Pilates mindful mat
Video 2: Fitness Pilates with long bands
Video 3: Fitness Pilates Standing Strength and sequences
Video 4: Sit Fitness Fitness Pilates Exclusive
Video 5: 10 minute Bone Building Exclusive flow with mini ball Exclusive
———————————————
Month 41 VIP
Video 1: Fitness Pilates Improve your Posture
Video 2: Towel and Stick Mobility
Video 3: Fitness Pilates Back To Basics
Video 4: Cardio Fitness Pilates
————————————————
Month 42 VIP
Video 1: 360 core
Video 2: Power mini ball
Video 3: Fitness Pilates strength
Video 4: More mobility masterclass
Video 5: Balance masterclass
Video 6: Fitness Pilates Alignment