Sale!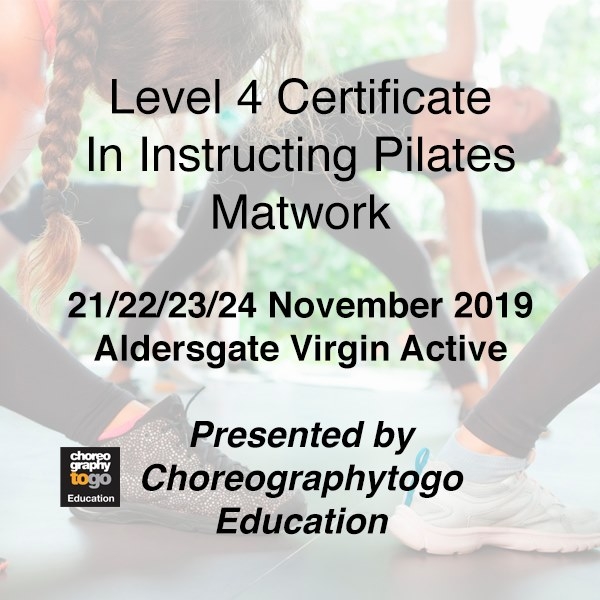 Level 4 Pilates Mat Qualification
Level 4 Mat Work Qualification
Date 21/22/23/24 November
Venue Virgin Active Barbican, London
Tutors Kelly Reed, Rachel Holmes, Tom Waldron
Ofqual Accreditation Number 600/6982/X
Timetable For 4 Days
Introduction of qualification, student dashboard info, how's it's assessed & general information for course 
Advanced exercise analysis of the classical and contemporary exercises and application of fundamentals & principles into advanced communication & teaching 
Advanced exercise selection & regression for specific groups & conditions.
How to adapt & progress the  classical and contemporary exercises into sequences, standing & chair-based 
Partner Pilates, Small Groups & PT- how to create sessions, deliver & adapt for your 1-2-1 & small group sessions.
Day 2
Advanced teaching skills for portable equipment including advanced Mini balls, Activation Bands,  Spiky balls, Foam rollers & the Pilates circle 
Practical workshops on Trigger point, Foot and ankle,
How to create, adapt & progress to create your advanced progressive programme for your assessment case study.
Continuous practical assessment 
Assessment action planning 
Delivered by Tom Waldron
Introduction to pelvis anatomy.
Pelvis movement assessments
Introduction to spine anatomy
Spine movement assessments
'Core' anatomy introduction
Practise pelvis and spine screens
Kelly Round Up and Ongoing Assessment and Learning.
Learners need to hold the Active IQ Level 3 Diploma in Instructing Pilates Matwork or equivalent.
Learners need to have had a minimum of 6 – 12 months experience in instructing pilates matwork post qualifying at level 3.
Compare