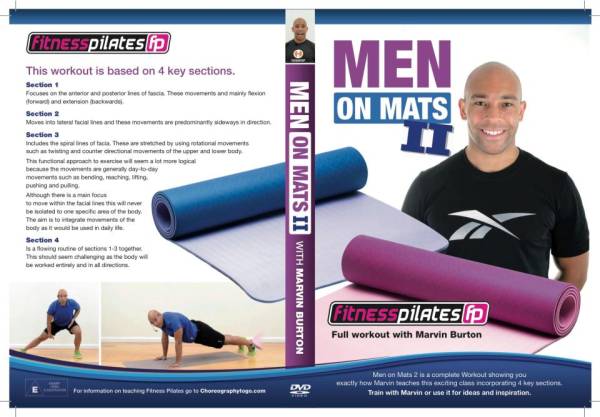 MEN ON MATS 2
Men On Mats 2 DVD's & Booklet
GREAT PRICE for so much content
Offer for today £20  (Original price was £35)
After the popularity of the Men on Mats 1 DVD here is the squeal and its a full workout you can do at home and see exactly how it all works. Lots of unique, functional and inspiring ideas for your Fitness Pilates classes and Male PT clients.
The workout is divided into 4 key stages:
Section 1 focuses on the anterior and posterior lines of the fascia.
Section 2 moves into the lateral facial lines.
Section 3 includes the spiral lines
Section 4 is a flowing routine comprising of all 3 sections. As always, Marvin's approach to Fitness Pilates is functional, unique and is appropriate for all levels of participant.
This DVD is a complete workout packed with ideas for your Fitness Pilates class. If you LOVED our Men on Mats series then you will love the follow up DVD.
Out of stock