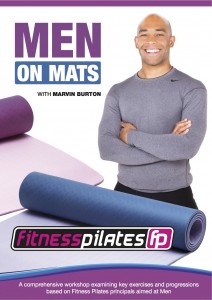 MEN ON MATS DVD
Men On Mats 1 DVD & Work Book
The Fitness Pilates Men on Mats Workshop DVD comprises of 2 x DVD PLUS a full colour workbook detailing all of the exercises.
Marvin covers a 4/6 week progressive class format that you can use as a stand alone class or incorporate into your mixed sessions.
This DVD starts at the basics and progresses through different movement patterns, exercises and variations examining common male
weak links in the kinetic chain.
The Men on Mats programmes takes you through a 6 week progressive plan of testing, mobility, strength and flexibility exercises.
There is no music or choreography. Marv explains everything step by step as this is a workshop DVD.
Week 1 Testing and Observation
Week 2 Upper Body Focus Work
Week 3 Lower Body Focus Work
Week 4 Shoulder and Spine
Week 5 Adding weights
Week 6 Re-observe & track progress