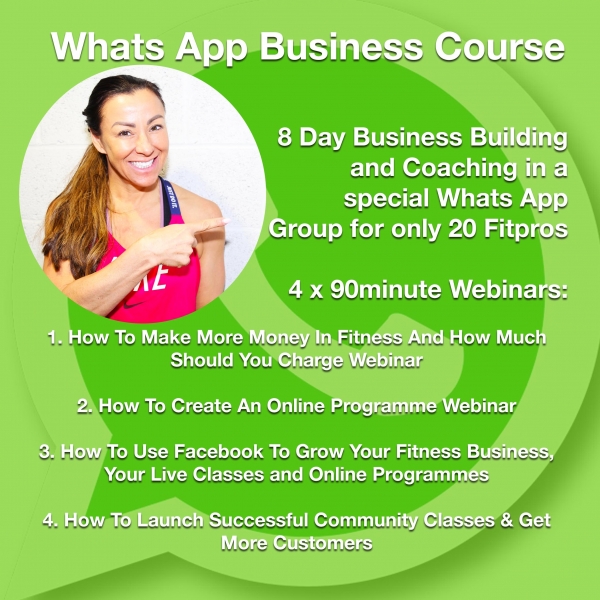 Whats App Business Course
OK TEAM Ive come up with the next stage of taking your business to the next level moving on from the challenge groups.
4 x 1 hour in depth webinars delivered to you over 8 days with a day in between to watch the content, get fired up and move on to the next stage of your business…
Starting 2nd January 2020
Only 20 Places so jump in quick
WEBINAR 1
How To Make More Money In Fitness And How Much Should You Charge Webinar.
Do you need to make additional income in fitness teaching and are you struggling with what to charge and how to price your offerings?
Try My "10  HOT Bang On Trend" Easy To Implement  Ideas to make additional income.
*10 IDEAS YOU CAN start RIGHT away to make more money in FITNESS…10 HOT IDEAS You can develop NOW!!!!!!

*Fitness Business building basics and how to turn ideas around quickly.


*How to get ideas up and running effectively on no budget or a shoestring.

*Seasonal ideas that generate income in the short term.

*How to offer additional services around your live classes – without teaching more.

*How to add quick online services that don't rely on you living on your phone.

*How to launch at the right price.
*Your current pricing – Pay As You Go v Subscription v Courses v Sign OF Sheets v Blocks – let's weigh them all up and make this work for you.
BONUS You get the SLIDES And A WORKBOOK
"How Much Do I Charge For………."
It's the BIGGEST thread that comes up over and over and OVER again in my Instructor groups.
Where do you start when it comes to pricing.
Should you be cheaper or more expensive than others doing similar things?
How do you get the balance right – so, you feel you are giving amazing value and your clients feel you are giving amazing value and impeccable service.
Price your services too low and you can't make it pay or cover your time and costs. This makes you angry and resentful.
This week I tackle these questions and give you a seven-step pricing strategy so you can determine what you should really charge.
I am INCREDIBLY passionate about this topic.
It seriously saddens me when I see Genius Talented Instructors charging hardly anything and scraping together a living.
Creating a pricing model that attracts the RIGHT customers and makes you a healthy profit is a key to your success.
120 MINUTES of GOLD
WEBINAR 2
How To Create An Online Programme Webinar.
Do You Want To Create An Online Programme or Course?
***START RIGHT AWAY***
Book on and get the recording and workbook sent straight over to you to start when you are ready.
I will be covering:
1: How to research and brainstorm the right course for your audience.
2: How to start with a small low price programme and build your online offerings.
3: The latest business planning and strategy with what is working.
4: How to market and promote your programme.
5: Case studies on the online programmes I have created over the last 15 years and what works.
6: Social media updates, landing pages and how to leverage the platforms.
7: Step by Step launch plan – what to do in what order.
This will be another ACTION PACKED NON-STOP MASTERMIND.
I have created 100's of online training programmes, fitness programmes, weight loss, business building and they all have the same steps to follow.
I'll teach YOU exactly how to do it.
WEBINAR 3
How To Use Facebook To Grow Your Fitness Business, Your Live Classes and Online Programmes
Try watching this video on www.youtube.com, or enable JavaScript if it is disabled in your browser.
Facebook is the NUMBER One social media platform for ALL Fitness Professionals & Group Exercise Instructors
who want to build a business, brand, local classes, grow an online programme and increase income.
Having a strategic FACEBOOK plan leveraging all the unique Facebook attributes including:
Facebook Groups
Facebook Events
Facebook Live
Facebook Messenger
Facebook Groups.
how you can leverage the power of FACEBOOK for FREE and get more customers and clients and increase your income using Facebook.
 WEBINAR 4
How To Launch Successful Community Classes & Get More Customers – Online Workshop With Rachel Holmes
Rachel Holmes Fitness Business Mastermind Online Workshop.
If you want to launch community classes or already teaching in the community but need MORE customers, get more leads and increase your income…….. DO NOT Miss this online workshop mastermind.
* Don't know where to start with promotion, social media, emails, create graphics, videos.
* Want to earn more money from teaching fitness classes and attract more customers.
* Understand Facebook and Instagram to generate new business – not likes BUT LEADS and CUSTOMERS.
I'll teach you my 10 Step Formula in how exactly what to do in what order.
Compare