Date: Saturday 13th July 2013 
Time: 9am – 5pm 
Venue: Jurys Inn Hotel, Nottingham.
Cost: £67 + VAT
Next to Nottingham Train Station, Parking next door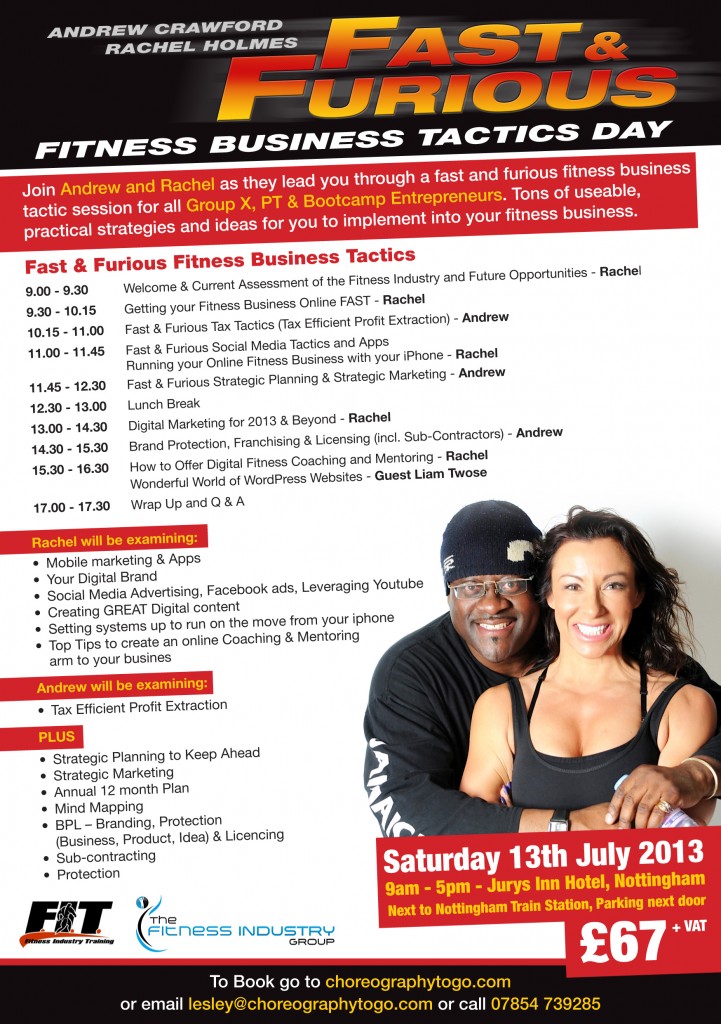 Join Andrew and Rachel as they lead you though a fast and furious fitness business tactic session for all Group X, PT, Bootcamp Entrepreneurs.
Tons of useable, practical, strategies and ideas for you to implement into your fitness business.
Fast & Furious Fitness Business Tactics
9 -930        Welcome & Current Assessment of the Fitness Industry and Future Opportunities – Rachel
930-1015    Getting your Fitness Business Online FAST – Rachel
1015-11      Fast & Furious Tax Tactics (Tax Efficient Profit Extraction)- Andrew
11-1145      Fast & Furious Social Media Tactics and Apps  – Running your Online Fitness Business with your iPhone – Rachel
1145-1230   Fast & Furious Strategic Planning & Strategic Marketing – Andrew
1230-130     Lunch Break
130-230     Digital Marketing for 2013 & Beyond – Rachel
230-330     Brand Protection & Licensing (incl. Sub-Contrctors) – Andrew
330-430     How to Offer Digital Fitness Coaching and Mentoring – Rachel
Wonderful World of WordPress Websites – Guest Liam
5 – 530  Wrap Up and Q & A
Rachel will be examining
* Mobile marketing & Apps
* Your Digital Brand
* Social Media Advertising, Facebook ads, Leveraging Youtube
* Creating GREAT Digital content
* Setting systems up to run on the move from your iphone
* Top Tips to create and online coaching & mentoring arm to your busines
Andrew will be examining:
Tax Efficient Profit Extraction
·       Setting up a company
·       Company looking after you
·       Paying dividends to yourself
·       Paying spouses/children
·       Fully Utilising personal allowances
·       Paying yourself bonuses
·       Getting Nanny costs covered
·      Personal Training costs
·      100% deduction for cars and vans
·      etc
PLUS
Strategic Planning to Keep Ahead
·       Outing (Difference family pic nic v revenge outing…it's not the winning…it's the taking apart )
·       Out Manoeuvre, Out Market, Out Strategise,  Out Think, Out Smart,
·       Strategic = Forward Planning, Following from the front
–      Strategic Marketing
·       Annual 12 month Plan
·       Mind Mapping
PLUS
BPL – Branding, Protection (Business, Product, Idea) & Licencing
·      Sub-contracting
·      Protection