Brand New Lifestyle Event for everyone interested in Health, Fitness, Nutrition, Positivity & Wellness
PHIL RICHARDS    JENNY BURRELL    JO DE ROSA    KIM INGLEBY    MAIRI TAYLOR   RACHEL HOLMES     JAYNE NICHOLLS
KSFL® Lifestyle & Nutrition Event
Saturday 7th June 2014
Thistle Hotel
EAST MIDLANDS AIRPORT
8am – 630pm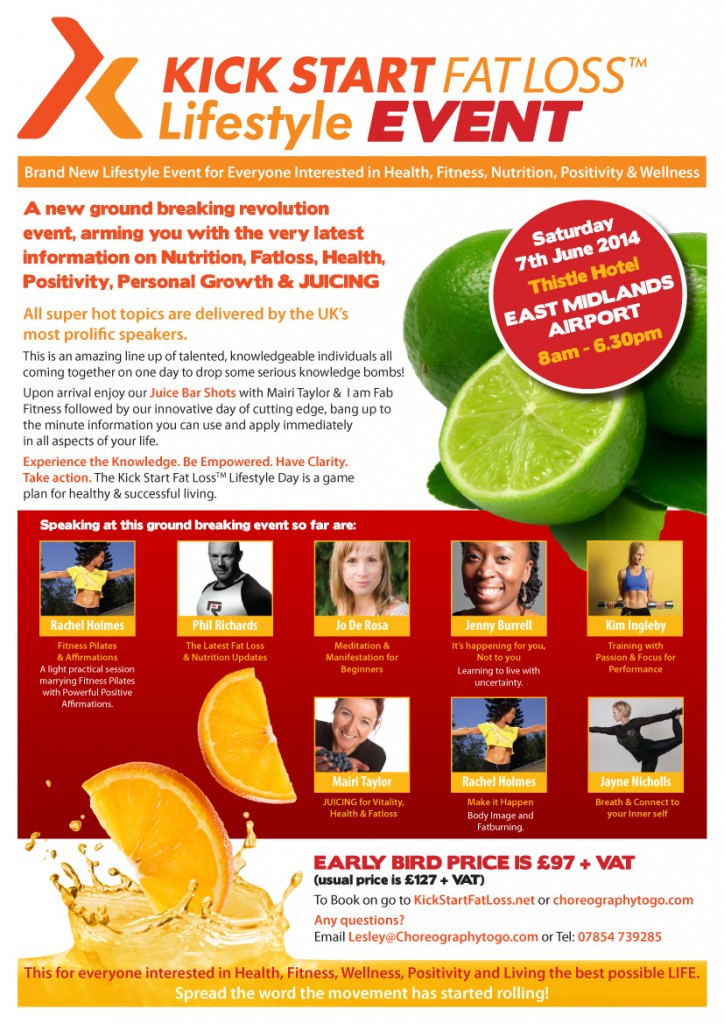 A new ground breaking revolution event, arming you with the very latest
information on Nutrition, Fatloss, Health, Positivity, Personal Growth & JUICING
All super hot topics delivered by the UK"s most prolific speakers.
This is an amazing line up of talented, knowledgeable individuals all
coming together on one day to drop some serious knowledge bombs!
Upon arrival enjoy our Juice Bar Shots with Mairi Taylor &  I am Fab Fitness followed by an innovative day of cutting edge, bang up to the minute information you can apply
immediately in alll aspects of your life.
Experience the Knowledge. Be Empowered. Have Clarity.  Take action.
The Kick Start Fat Loss Lifestyle Day is a game plan for healthy & successful living.
Speakers are:
Rachel Holmes Fitness Pilates & Affirmations – A light practical session marrying Fitness Pilates with Powerful Positive Affirmations
Phil Richards    The Latest Fat Loss Updates
Jo De ROSA  Meditation & Manifestation for Beginners
Jenny Burrell  Big Breakthroughs –  Its happening for you, not to you. Learning to love uncertainty.
Kim Ingleby – Passion & Focus IS mental strength for performance. How to apply this when you are training fun runs, marathons, triathlons or any event.
Mairi Taylor – JUICING for Vitality, Health, Fatloss
Rachel Holmes Make it Happen – Body Image, Fatburning,
Jayne Nicholls – Breath & Connect to your Innerself.
EARLY BIRD PRICE IS £97 + VAT usual price is £127 + VAT click here to book
Questions?
Email Lesley@Choreographytogo.com 07854 739285
This for everyone interested in Health, Fitness, Wellness, Positivity and Living the best possible LIFE. Spread the word the movement has started rolling!