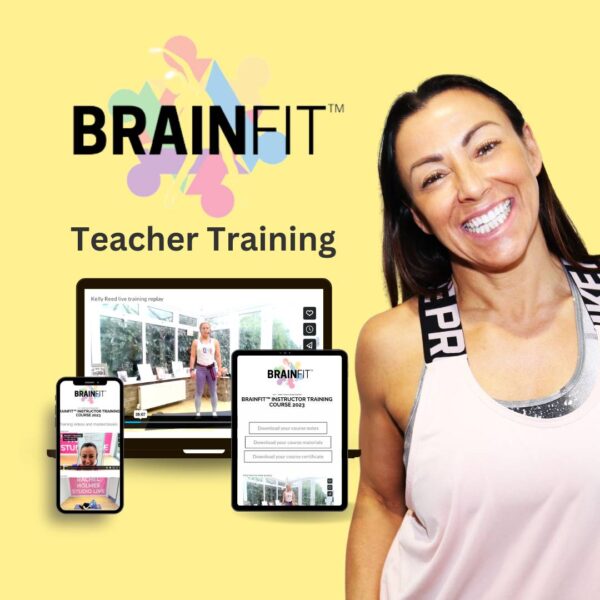 The BrainFit™ Workout Training Online Certification.
Would You Like to add a new calming class to your timetable?… Then Brainfit™ is for you.
You can get the FULL Training PLUS Access to the new Spring Refresher.
The Brainfit ™ Workout Instructor Certification
What is The Brainfit™ Workout?
The Brainfit™ Workout is a gentle movement, mobility & meditation group exercise class designed to lower stress, improve mindset, focus and instil a feeling of calm and wellbeing.
Who is The Brainfit™ Workout for?
Everyone can benefit from Brainfit™
How long is a Brainfit™ Workout Class?
Brainfit™ Can be bite-size 10 – 20 minutes up to a 60-minute class.
Where can I teach Brainfit™
Can I use the name Brainfit™ and use the Brainfit™ logo's?
Yes, The Brainfit™ Workout is a registered Trademark owned by Rachel Holmes.
What is Included in the Brainfit™ Workout Training 2022
*Brainfit™ Refresher Workshop
*Brainfit™ 1 Workshop with Rachel Holmes
*Brainfit™ 2 Workshop with Kelly Reed
*Brainfit™ Masterclass Rebalance
*Brainfit™˜Masterclass Flow & Meditation.
*Brainfit™ Masterclass – Bitesize
*Brainfit™ Masterclass – Fitness Pilates & Brainfit™
*Brainfit™ Masterclass – Breathwork.
*Social Media Launch tips
The BrainFit™ Workout is:
Regular mindfulness practice, through simple repetitive movement, affirmations and meditation, is an effective treatment for stress, worry, lack of focus, anxiety, and well-being. It leads to peace of mind, clarity, greater focus and creativity and a happier life.
Rachel looks at how to include mindset coaching in your group exercise class.
Identifying language cues, imagery, journaling and goal setting within The Brain Fit Workout™
What is included in the online training?
Become a trademarked BrainFit™ Workout Coach.

Use of the BrainFit™ Workout logos and branding.
Information Videos
See what a BrainFit™ live class looks like
See behind the scenes from a BrainFit™ Instructor live training event